AUDIO: Charlie Sheen Returns To The Dan Patrick Show, Says 'This Could Be My Final Interview'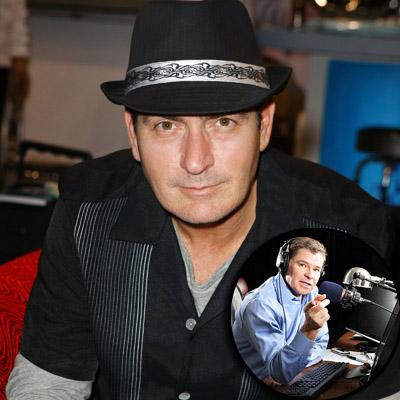 It was 24 days ago Charlie Sheen called The Dan Patrick Show to talk baseball, and wound up making his first public gripes he was ready to return to work on Two and a Half Men, even though CBS execs hadn't given the show a green-light to resume taping after calling a hiatus, concerned with the actor's life in the fast lane.
Dozens of interviews, catchphrases, tweets, USTREAM broadcasts later, Sheen returned to the scene of the crime Wednesday, telling Patrick "this could be my final interview" in his self-described "media tsunami."
Article continues below advertisement
Patrick began the segment saying, "Charlie from California, welcome to the Dan Patrick show ..."
Sheen joked that he was up to "everything and nothing," and made a reference to college footballer Ryan Mallet, who's been a hot topic in the sports headlines, as some predict drug rumors could lower where he's picked in next month's NFL draft.
"Hey, can call you call Ryan Mallet back, and tell him he left his bong, he left his herb, his sessamilia, he left it all at my house and I'm like, 'I'm drug-free, come get this stuff young man?'"
"He's drug-free too," Patrick said.
"I know, it's a big joke," Sheen replied.
"You sound good in the morning, and then I see videos of you late at night, and its scary ... are you OK?" Patrick asked Sheen.
"It's must-see TV," Sheen said. "I'm better than OK, I'm me, I'm winning."
Asked about getting fired from Two and a Half Men, the CBS show that made him TV's highest paid actor ever, Sheen said that while he's relieved to not have to perform the "slag pit of redundancy" that is the show's content, "there's a part of me that enjoyed taking all their money, so I have to find something between the two that makes me happy again."
MORE ON:
Two and a Half Men
Article continues below advertisement
Sheen told Patrick he was annoyed with the overall way he's been portrayed in the media.
"This could be my final interview, it's kind of symbolic ... this is where it all began and where it all ends."
Sheen said he's fed up with the media because "all they do is glad-hand me to get into my home and then they vilify me in their narrative speak.
"I mean do they teach this stuff in broadcasting school, to have this oozing, judgmental tone when they describe you in their horrible, troll-like voiceovers?
Listen to Charlie Sheen on the Dan Patrick Show
Sheen said he doubts any of the concern he's received from reporters is genuine, as "at the end of the day its all about ratings, its about commerce."
The media, Sheen said, "acts concerned but their behavior is completely then opposite ... it makes me a little bitter."
Patrick asked Sheen about the current scuttlebutt, that CBS claims Sheen would arrive in no condition to work and flub his lines.
"Flubbing my lines, wow ... is that the best they got?" Sheen said.
Asked if he ever came onto the set drunk or with cocaine on his person, Sheen said, "Never -- I was drinking water cause I was dehydrated from the night before ... it's a complete fabrication ... when I step into the lines on that stage, I've never been loaded once."
Sheen knocked the parade of mental health experts that have analyzed his behavior on TV, again specifically targeting Celebrity Rehab host Dr. Drew Pinsky.
"These ridiculous, retarded zombies ... the Pinskys and Minskys and all these experts that never met me ... calling me a 5150."
Asked about the names bandied about to replace him on Two and a Half Men -- actors Rob Lowe and John Stamos -- Sheen praised both, calling them "fabulous," and apologized to Stamos for a "rude" comment he'd made before.
Sheen wondered aloud how the show will move forward without him.
"I don't even know if they would call the character 'Charlie' anymore ... how does the show transition? Do you have the show's creator & executive producer Chuck Lorre, that silly sad troll, do you have him talk in the camera and say, 'Here's what happened' and then Rob Lowe comes out? Or do they just do it, without explaining it, and hope no one notices?"
Patrick said he had to end the segment, to which Sheen pledged, "I wont do any more interviews except you."
"You know what -- feel better," Patrick said with a slight twinge of discomfort. "That's Charlie from California."
Stay with RadarOnline.com for more on Charlie Sheen as it breaks.
RELATED STORIES:
Charlie Sheen To Chuck Lorre: 'You're A Stupid, Stupid Little Man... A P*ssy Punk'
EXCLUSIVE: Two and a Half Men Shut Down, Charlie Sheen Vows To Radar: 'I'll Take Your Drug Test Monday'
EXCLUSIVE INTERVIEW: Sheen's Porn Star: I Aborted Baby, Could Have Been Charlie's -- Or Another Celebrity's!