PHOTOS: Cha-Ching! The Most Blinged Out Bikini Babes!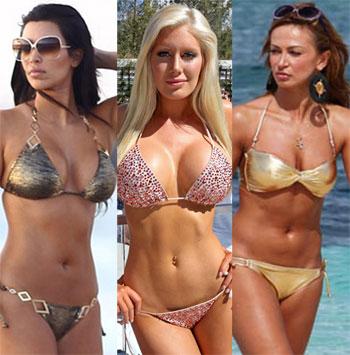 These sexy stars don't need any help getting attention with their hot bodies and flawless faces, so when they strip down into skimpy and blinged out bikinis, it is impossible to take your eyes off them!
RadarOnline.com has photos of Hollywood's hottest stars showing off their bods in the glammest and most elaborately embellished swimsuits ever. Click the next sentence to see the most blinged out bikini babes on the beach.
Article continues below advertisement
With her larger-than-life artificial assets, it is impossible to miss Heidi Montag at the pool. The plastic surgery addicted reality star, who has one of the most ample chests from the ocean to The Hills, refuses to take any chances, wearing the most blinged out bikinis that she can find.
Click Here To See Heidi Montag's Jeweled Bikini Boobs
Kim Kardashian is a devoted glamour girl from the red carpet to the beach. Never one to miss a photo op, Kim always shows off her covetable curves in the most attention grabbing bikinis.
Article continues below advertisement