PHOTOS: Cameron Diaz Is A-Rod's Spring Training Cheerleader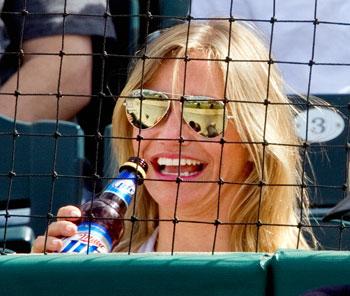 Cameron Diaz proved she is boyfriend Alex Rodriguez' number one fan Sunday as she cheered him on during a spring training baseball game between the New York Yankees and the Houston Astros.
The Charlie's Angels beauty sat in the front row of the players box, right next to the dugout and sipped on a Miller Lite beer as she enjoyed the fabulous weather in Kissimmee, FL where the game was played.
Diaz, 37, sprang to her feet and joined the crowd in a standing ovation when A-Rod hit his first home run of the season helping the Yankees to a 10 - 8 win.
Article continues below advertisement
She chatted with others in the private box and appeared relaxed and excited throughout the game.
The couple, who have been dating for a little under a year, have been inseparable in recent months and as RadarOnline.com previously reported, are even said to be looking for a new house together in Miami, where A-Rod lives during the off season.
RELATED STORIES:
A-Rod & Cameron Diaz Play Ball
Cameron Diaz & A-Rod Check Out Houses In Miami