PHOTOS: Bikinis! Stars Who Have Played Strippers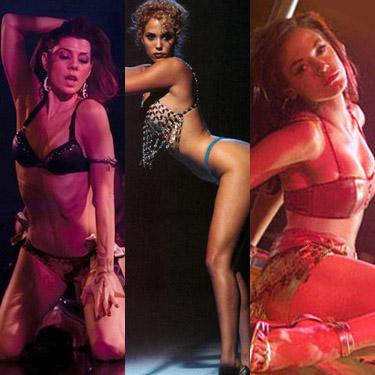 Vanessa Hudgens steams up the screen playing a stripper in Sucker Punch, which hits the bigscreen on Friday -- but she isn't the only hot body who has clutched onto a pole for a role! RadarOnline.com has photos of the sexiest stars who have played strippers, showing off their fab figures in skimpy swimsuits. Click the next sentence to see sexy stars who have played strippers.
Article continues below advertisement
Demi Moore had one of the hottest bods in Hollywood back in 1996, when she played a sexy stripper in striptease -- and over fifteen years later, her bikini body looks better than ever!
Click Here To See Demi Moore's Marvelous Bikini Bod
Not even Lindsay Lohan's flawless figure wrapped around a stripper pole could save her movie I Know Who Killed Me from flopping at the box office -- but when Lindsay sheds down into a barely-there bikini, she brings the boys to the beach in droves.
Article continues below advertisement
House hottie Olivia Wilde will be strutting herself on the stripper stage in the near future with a lead role in the upcoming film Butter, and by the looks of the suddenly single star in her skimpy bikini, audiences will not be disappointed.
Click Here To See Olivia Wilde's Wondrous Bikini Body
And Jessica Biel and Jessica Alba have both stripped on the bigscreen. While Biel danced her way across the stage in Powder Blue, Alba brought scandal to the stripper stage in Sin City.