PHOTOS: Bikinis! Sexy Stars Who Have Played Ugly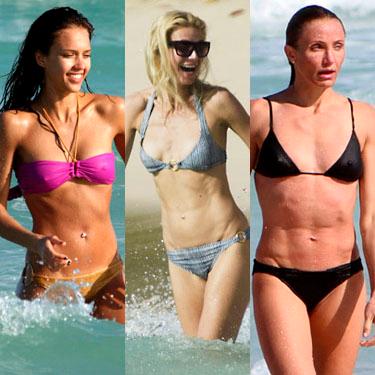 It is hard to imagine these bigscreen bombshells looking anything less than gorgeous, so when they undergo major make-unders for the art of acting, it is impossible not to take notice. RadarOnline.com has photos of the sexiest Hollywood stars who have played ugly, stripped down and showing off their flawless figures in the skimpiest of swimsuits. Click the next sentence to see sexy stars who have played ugly.
Article continues below advertisement
Click Here To See Sexy Stars Who Have Played Ugly
Gwyneth Paltrow is one of the most gorgeous gals in Tinseltown. With her long, blonde locks, flawless face and rock hard bikini body, the Academy Award winner always dazzles on the big screen-and on the beach! When Gwyn appeared alongside Jack Black in Shallow Hal, piling on the pounds with the help of a fat suit, she proved to the world that she wasn't just another pretty face!
Article continues below advertisement