PHOTOS: The 5 Sexiest Supermodels - Stripped Down!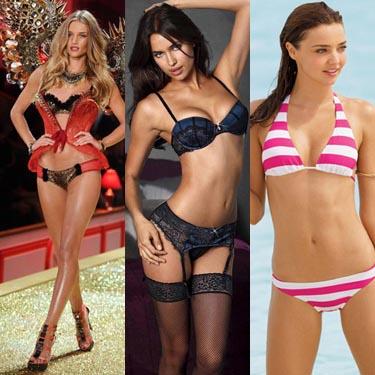 There are tons of banging bikini bods on the beach, but only a handful of them get paid the big bucks to strip down and strut their stuff, and they are called supermodels! RadarOnline.com is honoring the five hottest bikini and lingerie models in the world in this special photo feature. Click the next sentence to see the 5 sexiest supermodels stripped down.
Article continues below advertisement
Gisele Bundchen has been the highest paid supermodel for the past six years, raking in $25 million in 2009 according to Forbes. With her flawless face, beautiful body and sexy accent, the Brazilian bombshell has scored contracts with everyone from Victoria's Secret to Dolce & Gabbana and has been splashed across the cover of nearly every fashion magazine. Married to football hunk Tom Brady, with whom she has a baby with, this bikini babe has the ultimate dream life.
Click Here To See Gisele Showing Off Her Gorgeous Body In Bikinis And Lingerie
Miranda Kerr is an awesome Aussie who broke into the US market with a coveted Maybelline contract in 2006. Shortly after she became the first Australian to score Victoria's Secret Angel status, and with her beyond perfect bikini bod started demanding the big bucks. Married to bigscreen hunk Orlando Bloom, this hot mamma steams up the shoreline and the catwalk with effortless sexiness.
Article continues below advertisement
Click Here To See Miranda Kerr Stripped Down In Sexy Style
Ravishing Russian Irina Shayk became a household name when she was splashed on the coveted cover of the Sports Illustrated Swimsuit Edition in 2011. With her banging booty and ample chest, the exotic beauty quickly gained supermodel status. And if her presence alone isn't hot enough, when she hits the beach with her football hunk beau Cristiano Ronaldo, the thermostat explodes.
Click Here To See Irina Shayk At Her Sexiest
Being a Victoria's Secret Angel isn't enough for Rosie Huntington-Whiteley -- the bombshell Brit is about to become a bigscreen babe. Famous for modeling bras and panties, her name went global when she replaced Megan Fox as the leading lady of the Transformers franchise. With action star Jason Statham on her arm, Rosie is one of the luckiest -- and sexiest -- models in the world!