Remembering A Legend -- Elizabeth Taylor's Memorial At Forest Lawn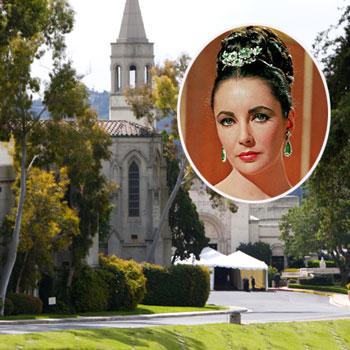 Hollywood legend Elizabeth Taylor is being laid to rest this afternoon and RadarOnline.com has live stream and photos of the activity surrounding the private service at Forest Lawn Memorial Park.
The 79-year-old star is being interred in the cemetery's Great Mausoleum where film stars Jean Harlow and Clark Gable are entombed along with her close friend Michael Jackson.
Only family members are invited to the service in Glendale, Ca which is set to take place at 2pm today, March 24th 2011.
Article continues below advertisement
White marquees have already been erected on the beautiful grounds of the famous cemetery, while men in dark suits have been spotted securing the area in preparation.
Hundreds of fans and media have gathered outside the gates to pay their respects, but will not be allowed into the intimate service.
Taylor passed away Wednesday, March 23rd 2011, after a battle with congestive heart failure.
Jewish law requires that burial takes place as soon as possible, preferably within 24 hours of death.