VIDEO: Lindsay's Judge: 'RadarOnline.com & TMZ Get Information Like The C.I.A.!'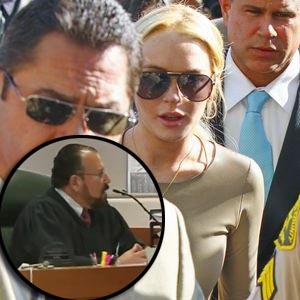 Los Angeles Superior Court Judge Keith Schwartz, presiding over Lindsay Lohan's hearing Thursday credited RadarOnline.com by name as he wondered aloud how insider information makes it straight from his chambers to the front of our homepage.
"Thankfully, this case doesn't involve military secrets where people's lives are at stake, because I can't believe how these things leak out, how TMZ,
RadarOnline, all of these, I don't know how. These guys ought to be in the foreign service,'' Schwartz said. "They're that good about getting this information. They ought to maybe hook up with the CIA and start working with them. I don't understand how they get this information.
Article continues below advertisement
"I respect both of the attorneys are completely honorable,'' the judge said. "They requested confidentiality. I certainly, I don't even tell my wife
what's going on. So I can't understand how they find out this information. I'm just, please respect the confidentiality nature of these agreements. It's not
fair for either side to have these things leaked out in dribs or drabs. It's not right. Cases should be litigated in court, in a courtroom, so then everybody can hear what's going on. It doesn't benefit anybody, so please try as our understanding was to keep whatever offer I made confidential."
Currently up on a felony theft charge in connection with a $2,500 necklace she's accused of lifting from a Venice Beach jeweler, the Mean Girls star stayed quiet throughout the hearing, only answering "Yes, your honor" in response to his questions.
RELATED STORIES: