Lindsay Lohan's Necklace To Be Auctioned Off For Charity By Jewelry Store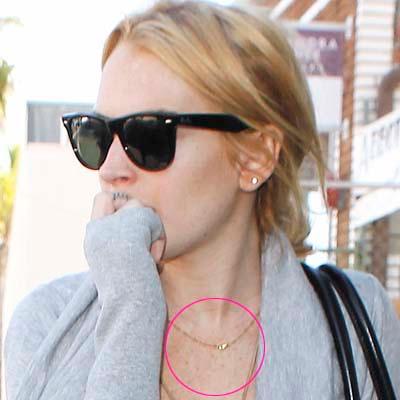 The necklace that Lindsay Lohan allegedly stole from a Venice, Calif. jewelry store will be sold through an auction with proceeds going to charity, RadarOnline.com has learned.
"We have already publicly released the videotape which speaks for itself and accurately records the incident, and we believe the next step toward achieving closure is to donate the now-famous jewelry to charity," jewelry store owners Geoff and Sofia Kaman said in a press release.
Article continues below advertisement
"Thus, we have decided to sell the diamond necklace through auction, and give the proceeds to charity."
As RadarOnline.com previously reported, Lindsay's mother, Dina, said they are considering a lawsuit against Kamofie & Co. after they sold the surveillance tape for more than $35,000, divvying up the rights for TV, the Web, the U.S. and abroad.
"Once again, celebrities are faced with the possibilities of their normal daily activity being filmed and sold without their knowledge and their consent, and our family is looking into formal legal action," Dina said.
The necklace -- which the store says is valued at $2,500 -- is currently being held as evidence by the Los Angeles District Attorney until Lindsay's case is over.
The Mean Girls starlet is scheduled to appear in court on Thursday morning where she will either accept the plea bargain given to her by Judge Schwartz, or she will go to trial.
"We invite the public to make suggestions as to the most appropriate charity to receive the benefit of the sale's proceeds," the Kaman's said.
Lindsay, 24, is facing a felony grand theft charge because prosecutors say she walked out of the jewelry store without paying for the necklace. RadarOnline.com broke the story that she was under investigation for theft and a search warrant had been issued for her home.
RELATED STORIES: