LeAnn Rimes Steps Out Looking Super Skinny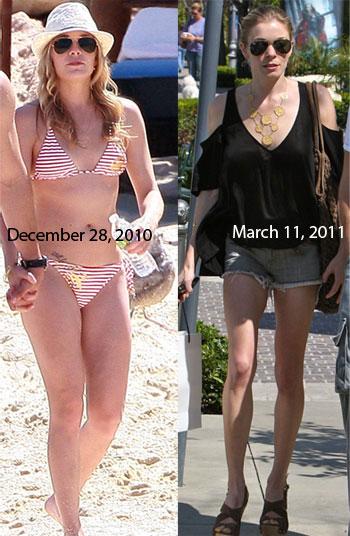 A nutrition expert has told RadarOnline.com that LeAnn Rimes could be suffering from 'pre-wedding stress' after reviewing new images that have appeared of the country superstar.
The latest photographs show Rimes, 28, looking super skinny as she stepped-out with her fiancé Eddie Cibrian, 37, in Calabasas, California, at the weekend.
Dressed in denim shorts and a baggy black t-shirt, the once toned performer had bony shoulders and stick thin legs on display.
Article continues below advertisement
Dr. Farid Zarif viewed the images of Rimes and compared them to ones of the performer from December of last year.
The health expert said: "Just as a lot of people have a propensity to gain weight others have the same ability to lose it too.
"There is definitely an apparent difference in her appearance and stress could be a factor with her wedding coming-up.
"A lot of women try to lose weight to look good in their wedding dress and somebody like LeAnn Rimes is under 'invisible pressure' to look a certain way for her fans also.
"In addition she is under more stress because she is constantly being followed by photographers and unlike the rest of us her appearance is constantly documented.
"It could be that she feels better and has more energy with her new shape and at this point I would not say the weight loss was alarming.
"If I was treating her I would find how many calories she was getting each day and make sure she was getting a healthy balance of protein, fat and carbohydrates in her diet."
Article continues below advertisement
In October the 28-year-old told Shape Magazine that she keeps herself in shape by boxing and circuit training.
Rimes got engaged to CSI: Miami star Cibrian in December and although they have not set a date it's understood that the singer has been busy planning their ceremony.
She told People recently: "It's kind of chill. We're taking it as it comes and planning as it comes.
"It's an exciting year and a lot to handle, but I've got a good man at my side. So he's helping.
"He really is the sweetest, most supportive man."
The pair met on the set of film Northern Lights back in 2009 - while they were both still married to previous partners.
Eddie, the father of two children, left his wife of eight years former model Brandi Glanville while LeAnn split from backing dancer Dean Sheremet after seven years.
RELATED STORIES:
AUDIO: LeAnn Rimes: I'm In Counseling With Eddie's Ex 'For The Kids'