Judge Judy To Be Released From Hospital Thursday; Tweets: 'All My Tests Were Negative'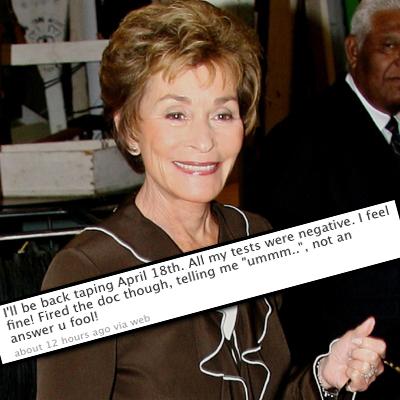 Judge Judy Sheindlin has been released hospital after spending the night there following a health scare, RadarOnline.com has learned.
"I am on my way home," the Judge said. "All is well. Thank you all for your loving messages. See you in court. Be on time!"
Judge Judy is on the mend after the startling health scare that landed her in the ER and is expected to be released from hospital on Thursday, RadarOnline.com has learned.
Article continues below advertisement
The outspoken TV judge was rushed to hospital on Wednesday by paramedics after feeling "nauseous" and suffering from "intestinal discomfort," but she proved you can't keep a good woman down for long and she has already tweeted about her condition.
"I'll be back taping April 18th. All my tests were negative. I feel fine!," tweeted the 68-year-old TV judge on Wednesday evening, and even had energy to bite back at a doctor who had annoyed her.
Article continues below advertisement
As RadarOnline.com previously reported, Judge Judy was rushed to Cedar Sinai hospital in Los Angeles after she suddenly started saying things that didn't make sense, during the taping of her hit courtroom show.
"She was just sitting on the stand during her show taping and she started saying things that didn't make any sense," a source close to the situation told RadarOnline.com, exclusively.
"She said, 'I need to stop, I'm not feeling well."
She was only two cases deep into her taping when her bizarre behavior prompted her to stop filming and have a crew member call 911.
A source told RadarOnline.com that the hospital trip was related to dental surgery that she'd undergone the day before.
"She had oral surgery late Tuesday and didn't eat all day before the procedure and she had to take pain medication," the show insider said.
RELATED STORIES: