Heidi Montag's Mom Feared Heart Attack Following Ambien & Booze Cocktail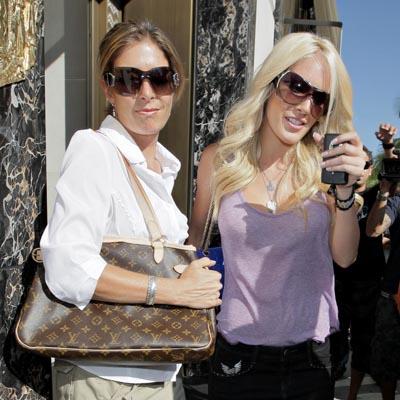 On her blog dated January 29, Darlene Egelhoff writes a shocking entry outlining the night that she "thought might be my last" due to an adverse reaction to sleeping pills while she was drinking alcohol.
Heart palpitations, which she admits to suffering from since childhood, but not at an alarming rate, increasingly got worse leading her to become depressed, she claims.
"I have been literally tortured with chronic insominia sic, not allowing people to sleep is a form of torture used in the military.
Article continues below advertisement
"I have been not sleeping for even one minute for continuous nights with a few hours here and there over the course of weeks. I have been delirious and hallucinogenic sic."
She goes on to write that her condition forced her to get a generic form of the prescription sleeping aid Ambien, which she inadvertently took with wine, a type of behavior that led to her brother's suicide, she admitted.
"I was loving them (the sleeping pills). I had been on them for a couple weeks when I had a bad reaction, likely because I was also drinking wine which it says not to do I discovered later.
"My brother Rip always joked that those labels were wrong, that all medications were way better with alcohol! He also enjoyed many drugs recreationally for the majority of his adulthood which likely contributed to his depression and ulitimaltey sic taking his own life."
Addressing her history of heart palpitations, Egelhoff said she grew "groggier and had felt pressure and pain building and increasing in my head over the course of many days, becoming toxic and severely depressed with no alcohol consumption."
Article continues below advertisement
It was so severe she thought she was having a heart attack.
"My heart started pounding and wouldn't stop racing. At the same time, I felt an intense tightening and pain surrounding my heart, I thought I might be having a heart attack," she said.
Egelhoff writes that she's "working a lot more", but didn't seek medical attention because of her dire financial situation.
"I have no insurance and no money so my decision was weighted in favor of waiting it out."
As RadarOnline.com previously reported, after being forced to close her family-run restaurant in Crested Butte, Colorado last year, Montag's estranged mom is now cleaning houses, painting and selling jewelry. But her depression has literally led to physical break downs on the job.
"The last couple times I've cleaned I pretty much cried my way through it because I was so utterly exhausted and delirious," she said. "I was slurring my speech, dropping things and stumbling. I soon realized I was dangerous behind the wheel and couldn't drive."
Article continues below advertisement
Seeing the light at the end of the tunnel, Egelhoff said she confided in her pastor and is looking after her health by controlling her diet, even giving food tips on her blog and by spending time with her family -- watching American Idol!
"I decided to take as strong an approach as possible holistically and spiritually… Chronic Insomnia is typically rooted in anxiety and stress, clearly my problem as well…I have eliminated all caffeine sic, sugar and alcohol and am only eating whole foods, nothing processed in any way. Foods high in omega 3′s, chromium, 5 HTP, tryptophan, B vitamins, folate, amino acids to produce serotonin sic, which helps with positive moods and emotions, and eating regulary sic to keep my blood sugar levels on an even keel. Aerobic exercise and sunlight every day."