Exclusive
EXCLUSIVE: Heidi Montag's Mom Charging $5,000 For Appearances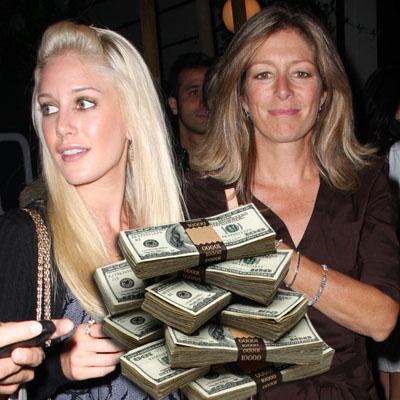 It pays to be famous, even if you're only famous because of your daughter.
RadarOnline.com has learned that Heidi Montag's mom, Darlene Egelhoff, is now charging $5000 for speaking engagements!
According to Darlene's new personal website that highlights her blog Metamorphosis of a Mother, on top of her fee she also requires travel and hotel arrangements to be covered - though church groups can book her for free!
Article continues below advertisement
According to celebrity booking agent Mike Esterman, celebrities who charge the same fee as Darlene include Omarosa, Jersey Shore's Angelina, The Salahis, and Kim Zolciak.
EXCLUSIVE VIDEO: Cops Storm Heidi & Spencer's House, Hold Them At Gunpoint
Heidi's estranged mother of Crested Butte, Colorado, also listed the topics she can cover: Perfect You! (about body image with a focus on eating disorders, health and fitness), Rocky Mountain High (focusing on the mind, body and spirit connection), Cutting The Chord (focusing on creating a separate identity from your children); and Sunshine In Your Heart (focusing on positivity during difficult times).
EXCLUSIVE: Watch Spencer Pratt's New Film Here!
Darlene has described her online musings as "a mother's support and encouragement blog focusing on personal growth."
Egelhoff and Heidi have not been in touch for about one year and in her blog she openly writes about her family struggles and even posts photos of happier times, including Heidi and her sister Holly smiling and making silly faces.
Now more than ever, Egelhoff may be in need of money after recently revealing in an on-camera interview that as a result of tough economic times she has had to earn an income working as a maid since being forced to close the doors of her family-owned restaurant in Crested Butte.