EXCLUSIVE: Heidi Montag's Mom Served Summons Over $100,000 Debt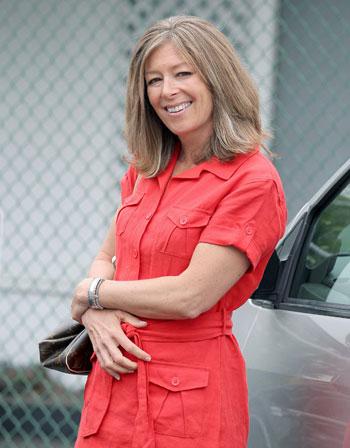 Looks like Heidi Montag's mom Darlene Egelhoff could soon be asking her famous daughter for another loan - after she announced on her blog that a Colorado Sheriff issued her a summons for $100,000 in unpaid bills, RadarOnline.com can reveal.
Darlene's restaurant recently went-under and now her hard-up family is being hit with the huge tab to pay for a breach of contract with their former landlords.
Article continues below advertisement
But despite the financial blow, Darlene seems to be taking a practical view of her situation.
In the blog entry entitled You Got Served Darlene wrote: "We are served papers by the county deputy sheriff, a very tall, overly happy gentleman, given his present task at hand. "That's all I do anymore" he says "Serve papers, you're not alone, it's a sign of the times" he was trying to be nice and help us to feel comfortable.
"It is a notice of court summons to pay an excess of one hundred thousand dollars for a breech (sic) of contract from the restaurant we were evicted from and forced to close by the landlords themselves because we were delinquent with rent.
"We were forced to surrender eighty thousand dollars of equipment and fixtures to them already, of which the value far surpassed the debt.
"A new tenant is already in the space so they are not out any future earnings either, unless they have significantly reduced the rent for the new tenants. If that's the case, that's all the help we would have needed, and had been refused, to hang tough and ride out the economic storm as we were on a good upward trend and would liked to have stayed for twenty more years. Where's Robin Hood when you need him?"
Article continues below advertisement
RadarOnline.com recently revealed how Egelhoff was charging $5,000.00 for speaking engagements via the blog Metamorphosis of a Mother, on top of her fee she also requires travel and hotel arrangements to be covered - though church groups can book her for free!
Egelhoff and Heidi have not been in touch for about one year and in her blog she openly writes about her family struggles and even posts photos of happier times, including Heidi and her sister Holly smiling and making silly faces.
Watch The Video To See Heidi Do Martial Arts
Now more than ever, Egelhoff may be in need of money after recently revealing in an on-camera interview that as a result of tough economic times she has had to earn an income working as a maid since being forced to close the doors of her family-owned restaurant in Crested Butte.
Egelhoff tries to put on a brave face about her latest financial hardship but admits that the stress is beginning to get to both her and their family.
Article continues below advertisement
She writes: "You must be willing to change and be flexible, learn to adapt, have the ability to fail and rebound. Life will never be problem free. My goal is to be happy regardless of my circumstances, careful what you pray for.
"I am certainly learning the hard way. You can put on love and patience like clothes. My goal is stability, I don't want to ride the emotional roller coaster again, it makes me nauseous. I change my focus but my feelings are still yucky. I frantically try and distract myself by being productive.
"We assumed this was coming, which is the sole purpose we have already begun the process to file for bankruptcy, we were caught up with all our other creditors with the exception of the IRS and you can't bankrupt them. That's a debt we'll be paying for years to come, oh well."
EXCLUSIVE VIDEO: Cops Storm Heidi & Spencer's House, Hold Them At Gunpoint
But she won't be getting any financial help from her son- in-law Spencer Pratt.
Article continues below advertisement
The former Hills star recently blasted Darlene and her blog, hitting out at his mother-in-law who criticized his wife's lavish lifestyle.
He said: "If I need an acting coach, I would go to Darlene - she can turn on the waterworks like she's Julia Roberts."
"The lady's such a hypocrite," he added.
"I wish Dr. Frank Ryan was alive to tell you, he was in talks with Egelhoff to do a full body makeover. The list was so long, longer than Heidi's ten, I'll tell you that."