EXCLUSIVE: 'Real World' Cast Mate's Black Eye Was Self-Inflicted, Claims Witness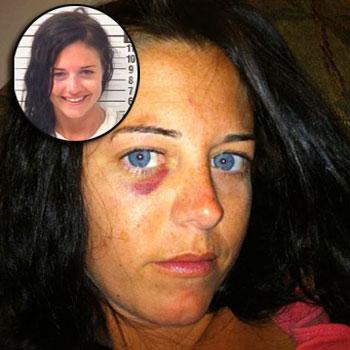 An eyewitness has told police Real World: New Orleans cast member Jemmye Carroll punched herself in the eye after cops arrested her and cast-mate Ryan Knight in Florida on Saturday night.
Carroll, 22, and Knight, 24, had Tweeted claims that she received a "black eye from a grown a** man" and protested her innocence, adding: "This is y women are to scared 2 go 2 cops."
READ THE POLICE REPORT HERE
However, the Bay County Sheriff's Office incident report, obtained exclusively by RadarOnline.com, draws into question the reality television stars' version of events about what took place at a luxury condominium around 5pm on March 12.
Article continues below advertisement
"While we were speaking to security next to my patrol vehicle, I was approached by an unidentified female employee of The Summit, who advised that every time we were not looking at her... Carroll would strike herself in the face," Officer Capps wrote, in the report.
While earlier reports had suggested the pair were at a Florida nightclub, it's emerged they were attempting to unlawfully enter The Summit in Panama City Beach.
Police said Carroll and Knight were approached by two security guards, Jerry Burden and James Parmer, when caught.
"Knight approached Parmer with a closed fist and stated that he was going to break Parmer's neck. Burden restrained Knight from striking Parmer, at which time Carroll then jumped on Burden and began striking him," Officer Capps said.
"Parmer pulled Carroll off of Burden and restrained her... We took both subjects into custody for the listed offense and then escorted them to the front of the building."
Article continues below advertisement
As RadarOnline.com reported, Carroll and Knight were charged with disorderly conduct.
Despite the Sheriff's Incident Report, Carroll took to her Twitter account with a sensational version of what happened that day.
"My eye looks ridiculous this morning..... I legit might kill this dude.....," she wrote.
"& yes I smiled in my mugshot... why?? Bc I'm a f**king badass....."
Knight supposedly corroborated Carroll's story with a post on his Twitter account, saying: "Got jumped because some f**king bouncer hit @JustJem24. I got him but didn't go so well for the 3on 1."