Exclusive
EXCLUSIVE: Pregnant Man Plans For Fourth Child Despite Filing For Bankruptcy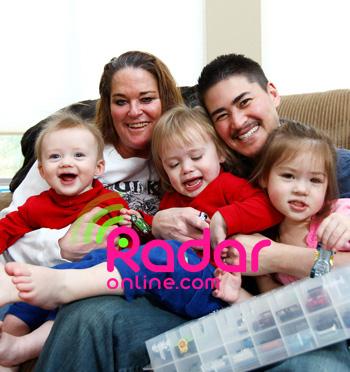 Article continues below advertisement
That same year, the family's annual self-employment income dropped drastically from over $300,000 to negative $16,000 in 2010.
A year after Thomas gave birth to his third child, the couple filed Chapter 7 when the stock market crash wiped out their savings and their T-shirt printing business took a drastic hit -- leading to their home in Bend, Oregon to be repossessed in 2010.
"We couldn't open the shop for several months because journalists and photographers kept turning up," said Thomas. "We tried to keep up with regular orders, but we lost a lot of customers because of prejudice, and then the economy took a huge downturn."
EXCLUSIVE DOCUMENTS: Pregnant Man Thomas Beatie Files For Bankruptcy
Since then, they moved into their holiday home in Phoenix, Arizona and are now struggling to maintain the mortgage payments, with $916 in monthly food stamps and cash assistance, according to their bankruptcy filing filed in February -- $400 of which is spent on diapers alone.
"It has been a very difficult year," said Thomas. "We never thought we would leave Bend. We planned on staying there and raising our children. "But the children remind me every day what's important. They are our motivation to succeed and press on."
Article continues below advertisement
To make their financial woes even worse, with assets totaling nearly $1 million, the Beaties are over $3 million in debt, as listed in their bankruptcy documents, which includes over $330,000 for credit cards and over $14,000 in medical expenses.
They couple claims only to have $150 in their bank accounts.
At their home in Arizona, Beatie and his wife documented values of their property -- $1,500 in household goods and furnishings, $3,800 for their PT Cruiser, $600 in clothing and only $300 for their wedding rings - totaling $912,650 in assets but claim to have a staggering $3,175,592.62 in liabilities.
They also have gambling losses of nearly $40,000.
Among their five properties in Oregon and Arizona, two are already in foreclosure with one expected to be foreclosed on March 28.
They were also forced to sell three cars, including a Corvette.
Their current average monthly income since August 2010 is just over $3,500.
Thomas and Nancy are parents to Susan, 2, Austin, 20 months, and Jensen, seven months, and even amidst dire financial setbacks, they are already planning to expand their family within the year.
Article continues below advertisement
Thomas said he would like to have a final child before starting to take his testosterone again and working out to get back in "good manly shape."
"I am only able to get pregnant four days out of the year," he added. "We'd need to try to conceive sooner rather than later.
Thomas has just eight menstrual cycles a year instead of 12, and only half of these cycles are useful for conception as he previously had a fallopian tube removed due to an ectopic pregnancy.
But the cost of getting pregnant is something that won't be easy to afford.
"We have two vials of donor sperm still in storage, and the longer we wait, the more it will cost to keep them there," he said.
The couple spent $7,500 on 15 vials of donor sperm but it costs $750 for cryobank storage each year.
VIDEO: Check Out Thomas Beatie's Home Video Of The Impending Birth
But according to the Beaties, there are some things that won't cost a thing. They have all the baby clothes and furniture they need and still feel now would be the ideal time for another child.
Article continues below advertisement
They also plan to open a personal training business and while Nancy has started a new college course, Thomas is applying for jobs and staying at home to look after the children.
"We are staying positive and we're determined to make this a good family home. We're both strong people and we've been through worse things in our lives. People might think this will have affected us and brought us down, but we refuse to let things beat us, and we don't want anyone's sympathy."