Exclusive
EXCLUSIVE PHOTOS: Brad Pitt Shows His Poker Face On Set Of Cogan's Trade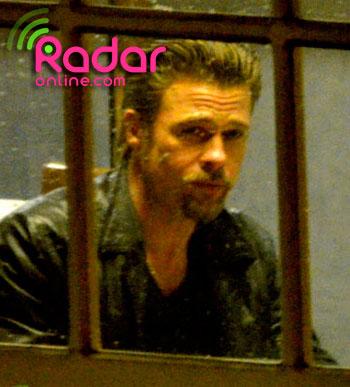 Brad Pitt looked ruggedly handsome -- with his slicked backed hair and goatee -- on the New Orleans, Louisiana set of his upcoming flick Cogan's Trade on Tuesday, and RadarOnline.com has the exclusive new photos for you.
The Missouri-born A-list hunk, 47, has been spotted in recent weeks on the set of the film, in which he plays Jackie Cogan, a no-nonsense professional enforcer who investigates a heist that went down during a mob-protected poker game.
Article continues below advertisement
The film -- which hits theaters on March 3, 2012 -- co-stars Sam Rockwell, Ray Liotta, James Gandolfini and Sam Shepard.
The Thelma And Louise clearly loves the New Orleans area, and New Orleans natives clearly love him: remember, it was just two years ago when natives of The Big Easy were clamoring for Pitt -- who made great strides with his Make It Right charity bringing life back to parts of the area following Hurricane Katrina -- to run for mayor.
"I'm running on the gay marriage, no religion, taxation and legalization of marijuana platform," Pitt, who's also a die-hard Saints fan, jokingly told Ann Curry when asked if he'd seriously consider a political campaign in the area. "I don't have a chance, no."
For more on Brad's charity work in New Orleans, check out www.makeitrightnola.org.