Exclusive
EXCLUSIVE: Lindsay Lohan Has Surprise Ally In Her Battery Investigation - The Deputy DA In Theft Case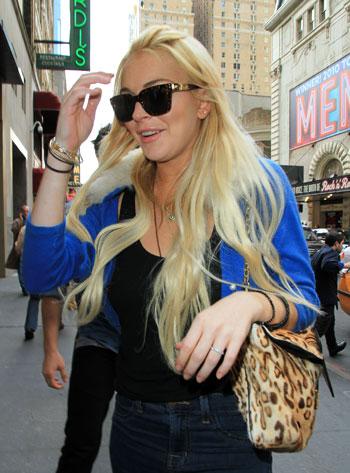 Lindsay Lohan may have found an unlikely ally when it comes to her pending misdemeanor battery case - the district attorney in her grand theft felony case, a source tells RadarOnline.com exclusively.
Deputy District Attorney Danette Meyers doesn't believe the open investigation Lohan is under, following her alleged assault on a Betty Ford rehab employee, who has subsequently been fired: "has any merits, and seems to be overzealous," the source says.
Article continues below advertisement
While Meyer's isn't playing any role whatsoever in the criminal investigation in Riverside County, she is aware of the general facts of the case, and the source says that Meyers has taken no action, nor will she do so even if criminal charges are eventually filed against Lohan.
"Meyers would wait until the conclusion of the case, if it proceeds to trial, and IF Lindsay is convicted before deciding what action to take," the source explains. "We are talking about a misdemeanor battery investigation. The facts just don't seem to support charging Lindsay in the matter. These type of incidents happen all the time in rehab settings, period."
Lohan has maintained her innocence throughout the investigation. And a source close to the actress says: "Lindsay is completely baffled as to why this is still an open case. Her lawyer, Shawn Holley is equally confused. It took a matter of days from when Lindsay was charged in the grand theft case, from when the crime occurred. This is months later after the fact and they still haven't decided if they are going to charge her or not."
Article continues below advertisement
As RadarOnline.com previously reported, the fired worker, Dawn Holland alleges Lohan physically attacked her last December after she confronted the actress for returning late to the rehab center.
EXCLUSIVE: Samantha Ronson's New Girlfriend Revealed -- Divorced Yoga Instructor Tiffany Russo
While the incident is still being probed by the Riverside District Attorney's Office and no charges have been filed to date, Holland's attorney, Owen Latham McIntosh, told RadarOnline.com that the time is "fast approaching" on whether he will file a civil suit against Lohan.
Meantime, a source close to the situation says: "One of the reasons the investigation is still open is because someone else besides Dawn and Lindsay are being investigated for their role in the incident. This person that is under additional scrutiny, wasn't there the night the altercation between Dawn and Lindsay occurred.
EXCLUSIVE PHOTOS: Lindsay Lohan Spends Valentine's Day With Sam Ronson!
"Lindsay is confident though that she will be cleared in this matter, but someone close to her, might be in big trouble."