Exclusive
EXCLUSIVE: Kim Kardashian Vows To Keep New Relationship 'Out Of The Spotlight'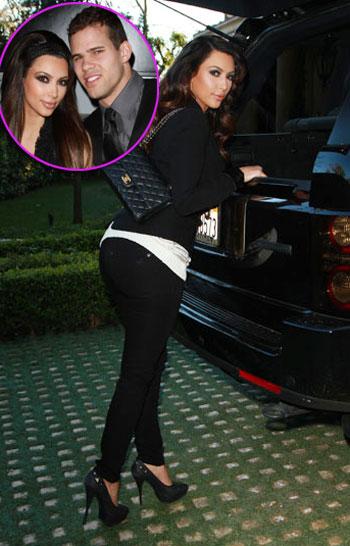 When you are a mega-successful reality star and celebrity icon it's difficult to keep your love life private, but that's just what Kim Kardashian is vowing to do.
Learning from past mistakes, Kim is determined to keep her developing relationship with New Jersey Nets star Kris Humphries out of the glare of the media spotlight as much as possible, a source close to Kim tells RadarOnline.com exclusively.
Article continues below advertisement
"Kim is really happy with Kris and just wants to have a more private relationship than she's had with past boyfriends," the source says.
"She not going to repeat what happened with Reggie Bush where things were so out in the open."
Kardashian 30, has been spotted sitting front and center at her boyfriend's games, and he has even spent time with her family but Kim has been conspicuously solo at red carpet events and hosting gigs recently.
"Kim wants to keep things a little more quiet, she's a lot more mature," the source shares.
AUDIO: Kim Premieres Her First Single - Jam (Turn It Up)
"She doesn't travel with an entourage of people around her, and she's doing a lot more work on her own these days."
Showing her down to earth side, RadarOnline.com obtained some exclusive photos of Kim loading up her SUV without the help of an assistant as she prepared for a busy day of meetings before the Academy Awards.
Article continues below advertisement
Flaunting her recently slimmed down figure, Kim rocked her curves in a pair of mega-trendy DL1961 Premium Denim "Emma" Legging jeans as she got ready to head off to Elton John's Academy Awards viewing party -- without Kris Humphries.
But don't for one minute think it's a case of out of sight,out of mind; the source assures RadarOnline.com that although Kim isn't being photographed with Kris she is definitely 'crazy' about her hunky new beau.