EXCLUSIVE INTERVIEW: Yes, It's Ryan Phillippe's Baby, Claims Mother Of His Pregnant Ex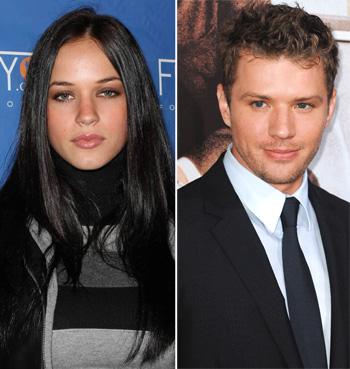 When Ryan Phillippe's ex-girlfriend Alexis Knapp was spotted last week with an obvious baby bump, there was no official confirmation of the speculation that Ryan is in fact the baby daddy.
But Alexis' mother Marjorie Knapp has broken the official silence and tells RadarOnline.com exclusively that Ryan is indeed the father.
PHOTO: Ryan Phillippe's Ex-Girlfriend Pregnant - Is It His Baby?
"Oh yes, I believe that it is his baby," Marjorie Knapp told RadarOnline.com exclusively. "I'm very proud of her. She did the right thing. She's keeping the baby and not having an abortion.
Article continues below advertisement
"She told me right away that it was Ryan's. They were in a relationship."
The Cruel Intentions actor began dating Alexis, 26, last June after he split from long-time girlfriend Abbie Cornish. But the beautiful couple parted ways in October when Phillippe was rumored to have been caught making out with another woman at his 36th birthday bash.
Marjorie confirmed that there will be a paternity test, and she's positive the outcome will reveal Ryan to be the father.
"They are going to do a paternity test, but Alexis wasn't with anyone else," Marjorie told RadarOnline.com adamantly.
When asked if Ryan believes he's the father, she responded: "I would think so. They were in a relationship for almost a year.
"By Hollywood standards, I would say they were girlfriend and boyfriend," she added with a laugh. "They were together at least 10 months."
The excited grandmother-to-be only wants the best for her daughter: "I wish it would have turned out differently. I wish he would have been committed to her," she says of Reese Witherspoon's ex husband.
MORE ON:
Reese Witherspoon
Article continues below advertisement
But now Marjorie is only looking at the future and offering her unconditional love and support: "The bottom line is that it's not about how you get here on earth. The fact is that it's another life and we will welcome the baby," she said.
When asked if the one-time couple will get back together, she said: "That's between the two of them."
As for the sex of the baby, Marjorie admitted that "yes" it is known if it's a boy or a girl -- but she is not revealing the news.
For now, she said that her daughter, who just wrapped So Undercover with Miley Cyrus, "is doing fine. She's very happy."
Ryan is already a father of two; he has daughter Ava, 11 and son Deacon, 7, with Oscar winning actress Reese Witherspoon.
Ryan and Reese divorced in 2006 after seven years of marriage.
Reese is now engaged to talent agent Jim Toth; the couple will marry this month.
Meanwhile, Ryan is currently dating gorgeous Red Riding Hood star Amanda Seyfried.