PHOTO: Ryan Phillippe's Ex-Girlfriend Pregnant - Is It His Baby?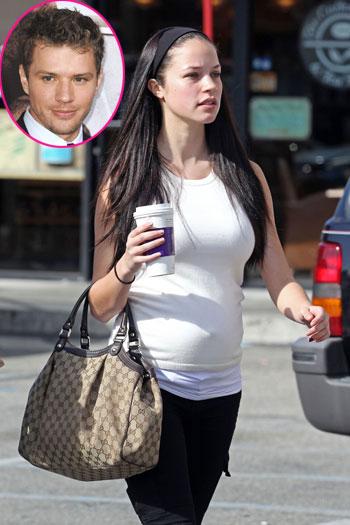 As his ex-wife, Reese Witherspoon prepares to be a bride again, is Ryan Phillippe preparing to be a dad once again?
Ryan's ex-girlfriend Alexis Knapp, 26, was spotted leaving a Coffee Bean in Los Angeles with a friend on Friday with a very obvious baby bump bulging under her white tank top, and RadarOnline.com has the photo.
But if the 36-year-old actor is going to be a father for the third time perhaps he should announce the news to his own mother!
Article continues below advertisement
RadarOnline.com spoke to Ryan's mom, Susan Phillippe, who claims to know nothing about the imminent arrival of another grandchild.
"I haven't heard anything about it but I'm just getting ready to watch him on Ellen now," Susan said.
"I don't think Alexis has been around for a long time. I don't think it can be true. He's been dating someone else since October.
"If she is pregnant I'm sure it's not my son's. Good luck to her. I haven't been made aware of it if it involves him though."
They may have been broken up "for a long time" (actually around five months) but the math still works out – a source says that Alexis is actually seven months pregnant!
The Cruel Intentions star began dating Knapp last June after he split up from long-time girlfriend Abbie Cornish, but the beautiful couple parted ways in October when Phillippe was rumored to have been caught making out with another woman at his 36th birthday bash.
Article continues below advertisement
Ryan was most recently romantically linked to Red Riding Hood star Amanda Seyfried and the on-again pair were spotted cozying up together at the film's premiere after party last Monday, reported People.com.
Phillippe and Witherspoon have two children, Ava, 11, and Deacon, 7, from their seven year marriage, which ended in 2006. Reese is now engaged to talent agent Jim Toth.
Calls to both Knapp and Phillippe's representatives were not returned.