Exclusive
EXCLUSIVE INTERVIEW: Teen Mom Leah Says Her Baby Daddy 'Wants a Boy'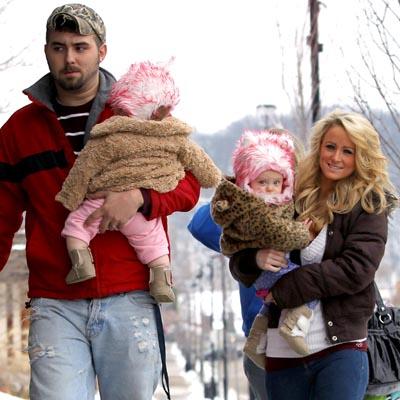 Becoming a mom while still a teen is a huge challenge! Just ask Leah Messer who gave birth to twins on the hit MTV series 16 and Pregnant. Now, on Teen Mom 2, just more than a year later, Leah spoke exclusively to RadarOnline.com about her life with the girls, her new husband and his wish for a baby boy!
Radar: You have been through a lot with Corey, the father of your babies, how are you doing today?
Article continues below advertisement
Leah: We are doing really good. We've grown up a lot and we're getting stronger every day.
Radar: You have given up a great deal to raise twins, what do you miss most about life before babies?
Leah: I miss not being able to finish school, but I know Ali and Aleeah need me right now, especially Ali with her health issues. School is put on hold, but when Ali and Aleeah get older I will go back to school.
Radar: Moving in with Corey was a huge step, you're now a family, how does it feel?
Leah: It's great! It was hard with us living in separate houses. I'm just glad we were through it and Ali and Aleeah don't have to go to two different homes.
Radar: Do you miss having the help of your friends and family close by.
Leah: Sometimes, but it's better that Corey and I don't live on top of family because we like to do everything on our own.
Article continues below advertisement
Radar: Having a child with a disability is another challenge you're facing in life, how are you doing? How is she doing?
Leah: I'm coping with things a lot better than I have before. I honestly didn't know how to take things before it was all new to me and all I knew was Ali is my little girl and I just wanted her to be healthy. She is doing good, were still doing tests and waiting. No answers.
Radar: What is a typical day like for you?
Leah: I get up go take the girls to Corey's grandparents, then go to work. After work I pick the girls up and go home with my family. I might make dinner or just get take out.
Radar: How often do you get a moment to yourself?
Leah: I don't really get a moment to myself, but Corey and I do get a lot of Fridays to ourselves.
Radar: What are the most important things you have learned from having children at such a young age?
Article continues below advertisement
Leah: The most important thing I would say is you don't have only responsibility for yourself anymore. You also have to take all responsibility for the child you gave birth to. Which is harder than what it looks!
Radar: What do you miss most about your life before the baby?
Leah: Probably hanging out with my friends and school.
Radar: Do you have a plan to go back to school or work in the future?
Leah: I'm currently working, but I plan on going to school as soon as the girls get in school or a little before.
Radar: Where do you see yourself in 10 years?
Leah: I plan to be through school, and possibly have another baby. Corey really wants a boy.
You can watch Leah's developing drama in full and catch up on all the latest on the other teen moms, Kailyn Lowery, Chelsea Houska and Jenelle Evans on Teen Mom 2 airing Tuesday, March 8th, on MTV 10pm/9c.
RELATED STORIES: