Exclusive
EXCLUSIVE INTERVIEW: Joran Van Der Sloot's Fate In The Hands Of Translators, Says Lawyer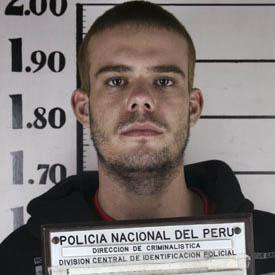 Joran van der Sloot's lawyer has told RadarOnline.com that translators are "too scared" to get involved with his controversial client and that the accused killer should be released if he is not questioned again with a qualified translator.
And despite local reports that say the government has completed its investigation and the public prosecutor is about to decide whether to proceed with the case or not, Peruvian lawyer Max Altez Navarro remains skeptical.
Article continues below advertisement
The lawyer -- who says he has received death threats -- believes that any confession van der Sloot previously made was illegal and that if he is not formally questioned again with a proper translator within 18 months of being in jail, then he should automatically be released.
Navarro said: "I applied for another extension but I have not heard anything back yet. there are still a lot of things that they need to sort out - there will be no quick trial in this case.
"I believe that the translators are too scared to take on the case; it is like a hot potato, and there are not a lot of them in Peru who can speak Dutch anyways.
"I spoke with Joran today and his spirits were good. He was exercising and he is in regular contact with his mother.
"Any stories about him taking drugs are not true. He had some medication to clear-up a skin rash, that was all.
"He was not moved into the general population either and is still being held in the isolation unit where he is treated well.
Article continues below advertisement
"I'm limited as to what I can say because he has a Dutch lawyer working with him also - it is not easy, but we are doing our best for him."
And the dispute has been further complicated because the Dutch embassy claims it's not their responsibility to find another translator for him.
Van der Sloot has been in a Peruvian prison since June 2010, accused of murdering 21-year-old student Stephany Flores.
Her body was found in his Lima hotel room five years to the day of Natalee Holloway's disappearance on a school trip to Aruba. She was last seen with van der Sloot.
Although he is considered the prime suspect in the case, van der Sloot never been charged by Aruban authorities.
In addition, waiting in the future for the Dutch prisoner is a U.S. federal indictment on wire fraud and extortion charges stemming from his alleged involvement in the disappearance of teenager Holloway.
Van der Sloot is accused of taking money from Holloway's family in exchange for information about her fate, but not delivering the information.