VIDEO: Joran Van Der Sloot Apologizes 'For Everything That's Happened Since 2005'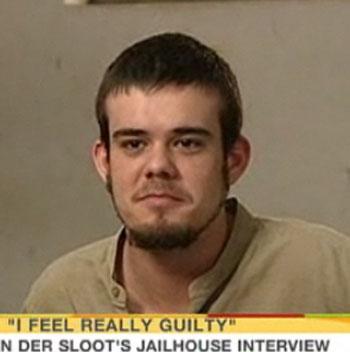 Joran van der Sloot told a Dutch TV station he's sorry "for everything that's happened since 2005, for all the things said in the media and everything he feels guilty for" in an interview that aired Tuesday, in which the accused killer appeared humble and sorrowful -- but coyly stopped short of saying anything related to his upcoming trial.
Watch the clip on RadarOnline.com
The 23-year-old Dutchman has spent the past three months in a Peruvian prison in connection with accusations he killed 21-year-old Stephany Ramirez Flores May 30, five years to the day of the 2005 disappearance of Alabama teenager Natalee Holloway in Aruba, which thrust the Dutch playboy into the headlines.
Article continues below advertisement
"I was doing a lot of things I shouldn't have been doing, mostly going out all the night and sleeping all the day," van der Sloot said in the interview, which was licensed to NBC. "I've always been very ... impulsive -- I always take action right away, make a decision immediately and now think about then consequences are."
Van der Sloot said that his frustration with the widely-held perception he killed Holloway caused him to lie to the media and Holloway's family regarding his involvement in the disappearance, even to the point of extorting Holloway's family.
"There were people who were paying me to make up stories and I was really good at making up stories," he said. "I misused the situation for my own advantage ... I feel bad about that ... if I could change that, I would take it back."
Asked about the upcoming case, van der Sloot said, "I told you, anything about the case, I'm not gonna talk about ... it 's not in my best interest to talk about it at all."
MORE ON:
Stephany Flores Ramirez
Article continues below advertisement
As for the Flores family, he said, "I feel really bad that a family had to lose their daughter ... I think about it all the time. When I speak to the judge, and the time is right, I will tell him the truth."
Van der Sloot said he got himself into the situation he's in, and has "to deal with it now -- deal with the consequences."
The Holloway family attorney John Q. Kelly said in an appearance following the van der Sloot piece that "it 's always spin with Joran -- he's always a victim, he's always a victim, he's seeking attention ... He's a pathological liar."