EXCLUSIVE INTERVIEW: Is Christina Aguilera Out-Of-Control? Boyfriend's Dad Is 'Concerned For Both of Them'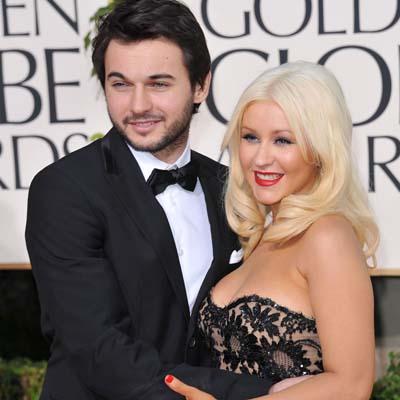 The father of Christina Aguilera's boyfriend exclusively tells RadarOnline.com that he feels his son was a victim of circumstance, and he's worried for the couple's welfare in wake of their recent arrest on alcohol-related charges.
As RadarOnline.com has previously reported, Aguilera, 30, and her 25-year-old beau, Matt Rutler, were taken into custody on March 1 after police noticed Rutler driving erratically in West Hollywood, CA. Rutler was charged with DUI, while the Beautiful singer was charged with misdemeanor public intoxication; authorities said they do not intend to pursue a case against her however.
Article continues below advertisement
"I just feel bad he got into trouble like this, but it could have happened to anyone," Matt's dad David Rutler told RadarOnline.com.
"He really didn't have that much to drink, he just got caught.
"Matt was only like .01 over the legal limit... it's not like he was that drunk. There are drugs and gangs running rampant in L.A., and they have a press conference about Matt," said the distraught dad, who went on to express anxiety for the couple.
"I'm concerned for both of them. I hope everything turns out OK," he revealed.
"He has a perfect record, he has never been in any trouble. He is an excellent driver, I taught him to drive and sat next to him in the passenger seat as he drove to school everyday, he's a good kid!" explained David Rutler.
"Matt should not have been drinking and driving, but when you're that close it's really hard to tell for anyone, I just hope it turns out well."
Article continues below advertisement
David hints that Matt got behind the wheel because he was looking after Christina, who the police described as "severely intoxicated."
"He's a good friend, he doesn't leave them (his friends), he's really there for them, he's a good person to have as a friend and will be that to her," said David Rutler.
"He is loved by his family, and everyone is concerned about him. He has four brothers and sisters and everybody is following the news."
The doting dad went on to proudly describe his production assistant son's prior achievements.
"He was the president of his senior class in high school, captain of the swim team and he's a qualified ocean lifeguard," said David.
"He's really good with children, he was a coach and taught kids to swim. He can accomplish anything when he puts his mind to it, he's a real leader."
Like Aguilera, one of Matt's passions is music, he was the lead guitarist in a band call Nate Mott in Newport, Rhode Island, which is currently on hold.
Article continues below advertisement
Despite his current legal problems, Rutler's dad said he approves of Matt dating the superstar singer.
"I think it is pretty cool... I felt so bad when she messed up on the national anthem (at the Super Bowl), she carried on so beautifully, she has an amazing voice, she really pulled it off.
"It was nice to see my son on TV with her (at the Golden Globes). He's a good looking kid, he looks like his mom."