Exclusive
EXCLUSIVE INTERVIEW: Charlie Sheen Reveals Major League 3 New Co-Star; His Best Friend Replacing Jailbird Wesley Snipes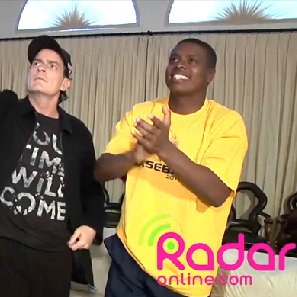 Charlie Sheen's bid to resurrect the Major League franchise has one major hiccup -- or so you would think.
Convicted tax evader Wesley Snipes is behind bars, meaning he would be unavailable to reprise his role as the fast-running Willie Mays Hayes given he's serving a three year jail term in a Pennsylvania prison.
But fear not, the warlock himself Rick 'Wild Thing' Vaughn, aka Sheen, told RadarOnline.com in an exclusive new interview.
Article continues below advertisement
"My good buddy Tony Todd will be the new Willie Mays Hayes in Major League 3," the embattled actor, who was fired from Warner Bros. Television's Two and a Half Men this week, said.
Sheen said Todd will be the perfect substitute for the role of Willie and even has a few acting credits under his belt already, including a small part in The Truman Show.
"Um, he's almost as good a ball player as I am," Sheen said.
"And he's perfect for the role because he's going to have more personality than anybody that's ever lived... except me."
As RadarOnline.com previously reported, it was Todd who sat next to Sheen at his Los Angeles home on March 1 as he anxiously awaited RadarOnline.com's reveal on live national television the results of his drug test - which came back clean.
Todd stood next to Sheen as his best man during the star's first wedding to Donna Peele.
You can check out Todd's skills on the ball field during the 2008 All-Star game highlight reel below!
"Tony Todd is probably the best celebrity player I've ever played with," Baseball Hall of Fame inductee Ozzie Smith said, about Todd.
"He's diving all over the place, has a great arm, and really enjoys playing in celebrity softball games."
RELATED STORIES: