Exclusive
EXCLUSIVE INTERVIEW: Brooke Mueller's Parents Hit Back At Charlie Sheen's Mom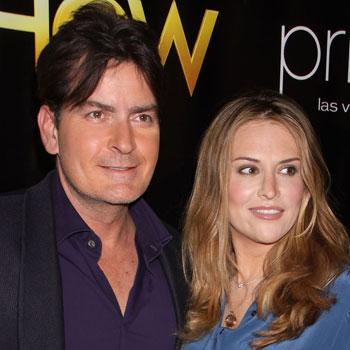 Brooke Mueller's parents are shocked after an email surfaced, purportedly written by Charlie Sheen's mother, Janet Templeton, slamming their daughter and claiming she always knew Brooke would be the "downfall" of her son.
Brooke's stepfather, Jon Fiore spoke exclusively to RadarOnline.com and made it clear that Janet's accusations are misplaced and that as far as they are concerned Charlie has no one but himself to blame for his troubles.
Article continues below advertisement
EXCLUSIVE DOCUMENT: Judge Refuses To Sign Settlement Of Brooke's TRO Against Charlie
"It's a shame that she would blame a family member for her son's demise," Fiore said. "He is an adult and is responsible for himself."
The war of words was sparked after comments were made by none other than the king of controversy himself, Donald Trump.
In a recent interview, Trump revealed that he warned Mueller's parents against allowing their daughter to marry Sheen.
"I told Brooke's parents 'Don't let your daughter marry Charlie'" Trump told ABC News earlier this month. "I think he's wonderful but I think he's a disaster. Don't let your daughter marry him!"
According to The Daily after learning of Trump's comments Sheen's mom fired off a blistering email to friends.
"The Donald is spreading such vicious lies about Charlie, is there anyway to stop him? Brooke (Mueller) had been to 13 rehabs before meeting Charlie. She drank and drugged during pregnancy and had such a party girl rep before she met him," she reportedly wrote.
Article continues below advertisement
Mueller's parents were understandably hurt and shocked by the attack on their daughter, who is the mother of Charlie's two-year-old twin boys, Bob and Max.
"We never say anything against her son in the press, we have only been quiet through everything Charlie has done," Fiore told RadarOnline.com.
"Janet needs to support the mother of her grandchildren, the way that we have supported the father of our grandchildren."
Sheen's mom's alleged email went on to complain about Trump's public response to her son's recent meltdown and added how "sick" Mueller is for taking joy in Sheen's troubles.
EXCLUSIVE DOCUMENTS: Brooke Mueller Ordered To Pay PR Firm
"Donald has gone on national TV twice to say that Charlie brought Brooke into this scene. Actually he had been sober for some time before her met her and we were convinced she would be his downfall," Janet reportedly wrote.
Article continues below advertisement
"She is only happy when she knows he is in trouble or miserable. She is so very sick."
Despite their hurt and bewilderment at the attack on their daughter, Brooke's parents are trying to take the high road though and they say they have sympathy for the position they feel Janet must be in.
"It must be tough to watch her son, someone she loves so much deteriorate and break down in front of her eyes," Fiore told RadarOnline.com. "Charlie's mom is showing the stress of watching her son meltdown in front of the world.
"Clearly she is under a lot of pressure and our hearts go out to her."
Meanwhile, a source close to Brooke tells RadarOnline.com that she is working hard to maintain her sobriety and to rebuild her life after her difficult past year.
"Brooke is celebrating 30 days of sobriety today," the source says. "She has been working extremely hard at her sobriety. Brooke's drug test that she has taken, as part of her custody agreement with Charlie, was negative. Those tests will continue to be negative for Brooke.
Article continues below advertisement
"She is committed to her recovery. Brooke is still doing her day rehab program, and spending nights at home with the boys. A sober living companion stays with her at night. Brooke is also reconnecting with a group of girlfriends that are also in AA, and have significant amount of sobriety under their belts.
"This group of girls has at least two years of sobriety. Brooke wants to surround herself with people that will lift her up, and not bring her down. Brooke is taking Bob and Max hiking in Griffith Park this morning, and then will go back to her day rehab program, where she will get a 30 day AA chip."