EXCLUSIVE DOCUMENTS: Sheen Suing To Halt Warner Bros. Arbitration Against Him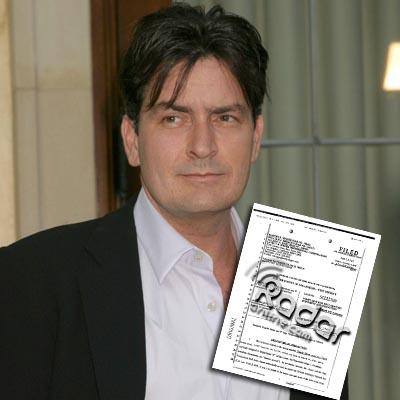 Charlie Sheen is suing the arbitration company that Warner Bros. Television hired to litigate after the actor filed a multi million dollar lawsuit against the studio, and Chuck Lorre, creator of Two and a Half Men – the hit sitcom Sheen was fired from.
In documents, exclusively obtained by RadarOnline.com, Sheen claims that the arbitration company didn't provide him with enough notice to prepare for the proceedings and he is suing for declaratory relief.
Article continues below advertisement
EXCLUSIVE DOCUMENTS: Sheen Sues Arbitration Company
Declaratory relief is asking the court to formally step in and issue orders about the pending matter. This is done routinely in lawsuits that involve labor disputes. Sheen is seeking to HALT all arbitration proceedings, and is asking the Court to order that JAMS formally do so, until the Court rules on the matter.
Sheen's employment contract with Warner Bros. states that any labor dispute must be handled by arbitration, but Sheen is now asking the court to decide on that matter.
Sheen is seeking: " a temporary restraining order, preliminary and permanent injunction enjoining and restraining JAMS from administering the JAMS Arbitration until such time as the Court has determined the threshold of whether a valid and enforceable agreement exists between Plaintiffs, Warner Bros., and Lorre, and if so, whether the claims alleged by Warner Bros. and Lorre in the JAMS Arbitration are abitirable..."
Article continues below advertisement
The documents state: "The JAMS Arbitration is a transparent tactic by Warner Bros. and Lorre to make an end around the claims they knew they would soon be facing before this Court in the Sheen Lawsuit."
Sheen also says he is acting on behalf of the entire cast of the show, by seeking a halt to the arbitration proceedings.
Howard Weitzman, attorney for Chuck Lorre, tells us, "Despite Charlie Sheen asking for extraordinary relief to stop the arbitration the court's ruling was not a surprise. The judge found no "emergency" existed and ordered Mr. Sheen's attorneys to follow normal procedure in their attempts to halt the arbitration of this dispute." Sources close to the situation tell us, "Marty Singer applied for a TRO against JAMS in Santa Monica this morning to stop the arbitration. The judge found that no emergency existed and that he should file a normal motion against the real parties (WB and Lorre) before the trial judge assigned to the case Sheen filed (with 21 days notice) for such relief."