Exclusive
EXCLUSIVE DOCUMENT: Charlie Sheen Sends Cease & Desist Letter To Merchandiser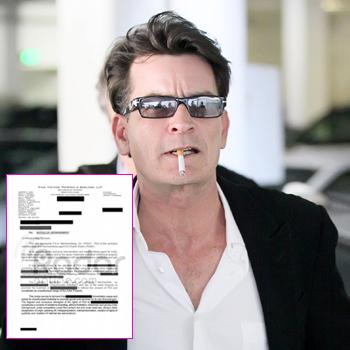 Now that Charlie Sheen is selling his own "winning" and "tiger blood" merchandise, the ex-Two and a Half Men star has fired off a cease and desist letter to a vendor selling goods that trade off his much-talked about meltdown.
EXCLUSIVE DOCUMENT: Read The Sheen Legal Letter
In fact, Sheen now has his own official merchandiser who is aggressively claiming the rights to Sheen items.
In a letter sent to an online store hawking Sheen t-shirts, lawyers for FEA Merchandising, a subsidiary of Live Nation that says it has the official rights to Sheen merchandise, allege that the actor's image and words are being used illegally.
Article continues below advertisement
"This notice serves to demand that (store redacted) immediately cease and desist its Unauthorized Activities to promote goods and serves for its own financial gain," the letter obtained exclusively by RadarOnline.com states.
"The flagrant and conscious disregard of the rights of FEA by (store redacted) constitutes a number of violations including, without limitation, trademark and service mark infringement, unfair competition under the Lanham Act and under state law, dilution, false designation of origin, passing off, misappropriation, misrepresentation, violation of rights of publicity and violation of internet law and protocol."
The company has sent several legal letters, attempting to assert rights to the many phrases Sheen rolled out while WINNING his way to mega controversy.
Sheen previously told RadarOnline.com in an exclusive interview: "I need to gobble up all these f*ckin' posers and bootleggers and make them go away."
In the take-down notice, FEA claimed it was now the exclusive merchandiser and merchandising agent for Sheen, who was the highest paid actor on television before he was fired on March 7 because of what Warner Bros. Television executives called his "dangerously self-destructive conduct".
Article continues below advertisement