Exclusive
EXCLUSIVE DETAILS & PHOTOS: Lindsay, Who? Lohan's Ex Samantha Ronson Caught Kissing A New Woman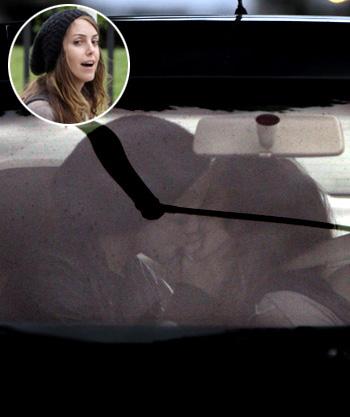 Lindsay Lohan's ex-girlfriend Samantha Ronson has moved on from the Mean Girls star, as these RadarOnline.com photos leave in doubt!
The DJ was snapped on Thursday afternoon in a make-out session with another woman.
While Lohan was busy getting her legal affairs in order, Ronson was enjoying a romantic late afternoon date on trendy Melrose Avenue in Los Angeles with the mystery brunette.
Arriving in separate cars, Ronson met her new gal pal outside of the Melrose Mac store, where they sat on the sidewalk and enjoyed a few moments of sunshine.
Article continues below advertisement
While Ronson kicked back and relaxed on the pavement, her new pal put on a show for her, showing off her flexible and fit body by doing various yoga poises.
"Samantha was enthralled with her new friend," confirmed an onlooker, exclusively to RadarOnline.com.
"She was bending over and showing off her Yoga moves and Sam could not take her eyes off of her fit body—especially her backside!"
After spending some time in the sun, Ronson, who arrived in her own car, hopped into the passengers seat of her gal pal's car and two engaged in a twenty minute make out session, barely coming up for air!
"They made out for about twenty minutes and couldn't keep their hands off of each other," said the onlooker.
After the extensive display of affection, Ronson's pal dropped her off 50 feet away at LA eatery Mozza — but not before one last kiss.
Said our spy: "Before getting out of the car, Sam grabbed her friend's face and kissed her passionately. It was intense."
As RadarOnline.com revealed, Lohan, 24, has a secret plan to stay out of jail and that the she believes once Judge Sautner is presented with her defense, that she will be cleared of all charges.