Exclusive
EXCLUSIVE: Charlie Sheen Producing Evidence Of Illegal Drug Use By Wife As He Goes For Custody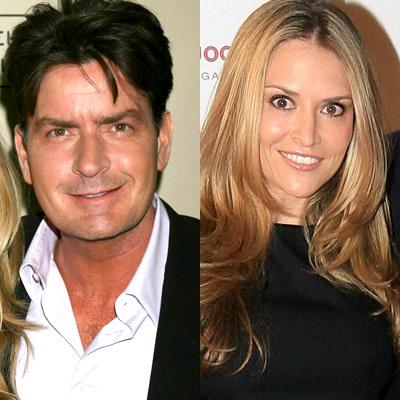 Charlie Sheen is preparing to go to a Los Angeles court on Monday in a bid to strip his soon-to-be ex-wife Brooke Mueller of custody of their twin sons, RadarOnline.com has exclusively learned.
The embattled Two and a Half Men star is assembling his lawyers together for a strategy meeting Thursday as they decides on legal arguments and discuss evidence to present to the judge who ordered that his 23-month-old twins Bob and Max be given back to Brooke on Tuesday night.
Article continues below advertisement
Sheen intends to introduce plenty of evidence charging illegal drug use by Mueller.
"Charlie will have statements from some of his employees, credible drug experts and friends who are all eyewitnesses to Brooke's drug use within the last week to 10 days," a source close to Sheen's camp told RadarOnline.com.
He will use this to prove she is not a fit mother to care for the children.
Sheen, 45, also has photographic evidence, as we first revealed, showing a supposed home made crack pipe, foil, spoons, drug residue and his ex's driver's license which had been used to cut up lines of cocaine.
These images and a letter to Sheen in which she admitted she "would kick all these pills" will be filed in court, we're told.
Sheen's camp is also assembling new evidence they claim will prove she is still hooked on the prescription medication Norco, a narcotic pain reliever, RadarOnline.com has learned.
"Charlie had hoped common sense would prevail and Brooke would realize he only wants the best for his kids," said the source, "but he thinks she is being irrational and erratic, at the expense of their two children."
MORE ON:
Two and a Half Men
Article continues below advertisement
In court documents, Mueller alleged that on February 23, while vacationing in the Bahamas, Sheen went off on another threat-laden tirade, spat on her feet, punched her in the arm and threatened to stick a penknife, which he was holding at the time, in her eye.
She also claimed that Sheen took their sons, Max and Bob, from her home on February 26 without permission.
When Mueller attempted to retrieve them, she was again allegedly threatened by Sheen: "I will cut your head off, put it in a box and send it to your mom."
He denied this in an exclusive video interview with RadarOnline.com.
Said the Sheen insider: "This is how Charlie sees what the judge will have to consider: should a father not have taken his children from a woman who was so riddled on drugs, prescription and illicit, that she could not properly care for them? Charlie was acting as only a loving father could."
Sheen was blindsided by Mueller's court challenge and claims he was not given a chance to formally respond to her "outrageous allegations", the insider said.