Exclusive
EXCLUSIVE: Brooke Mueller Demanding Charlie Sheen Get Psych Evaluation Before Seeing Children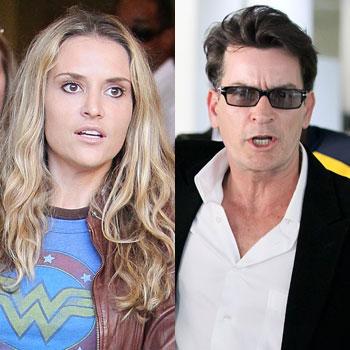 Brooke Mueller is so concerned about her soon-to-be ex-husband, Charlie Sheen's current mental state, that she is demanding he get a full psychological evaluation, a source close to the situation tells RadarOnline.com exclusively.
Sheen's behavior has been growing increasingly alarming and disturbing, showcased over the last four days during his Sheen's Korner Ustream nightly webcast rants.
"Brooke is extremely concerned for the safety of Bob and Max when it comes to being with their father," the source tells RadarOnline.com. "She is demanding that Charlie get a full mental health examination before he is allowed to have his next visit with the boys.
Article continues below advertisement
"Brooke will not waiver on this demand, period. The mental health professional would be someone that both parties agree to, however, Charlie is absolutely refusing to undergo any examination, period."
"If Brooke needs to go to court to make this happen she will. Brooke won't allow the boys to be with their father again until the mental health evaluation takes place."
The twin boys, who turn two next week, were removed from Charlie's care by court order on March 1 and placed with Brooke, who has being staying with them at an undisclosed location.
Brooke was granted a temporary restraining order earlier that day ordering Sheen to stay 100 yards away from her and the boys. "I am very concerned that Sheen is currently insane," Mueller stated in the filing. "I am in great fear that he will find me and attack me and I am in great fear for the children's safety while in his care."
Meanwhile, Charlie has vowed to fight for custody of his sons.
Calls seeking comment from Brooke Mueller and her attorney weren't returned.