Exclusive
EXCLUSIVE: Brooke Mueller And Sons Moving Back To Old House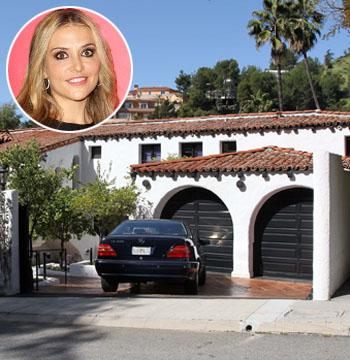 Brooke Mueller and her twin sons are moving back to the old home they were living in before their short lived stay with Charlie Sheen and his goddesses, RadarOnline.com is exclusively reporting.
Despite the trauma of recent events, including her soon to be ex-husband's media meltdown and a potential bitter custody battle that was averted at the last minute, Brooke is working hard on maintaining her sobriety and providing a stable home life for her beloved boys.
Article continues below advertisement
"Brooke is still in her rehab program, she is part of the day program, and she is at home every night with Bob and Max," a source close to the situation tells RadarOnline.com. "Brooke has moved back into her Los Feliz home with the twins.
"She had briefly moved in with Charlie because he promised her that he was going to buy her a home in Mullholland Estates, where he lives. Brooke was very disappointed that didn't happen, and the house that Charlie told her he was buying for her, he will now be moving into himself.
"Brooke has been through hell these past several weeks. She is working on her recovery, and is going to AA meetings daily. Her mom is no longer with her in California, and Brooke has a sober living companion with her at night. Brooke is totally committed to her sobriety."
As RadarOnline.com was first to report Charlie is on the move too - relocating from 'Sober Valley Lodge' into a beautiful new mansion two doors down from Brooke's best pal, Paris Hilton.
Article continues below advertisement
The six bedroom, eight bathroom residence was previously owned by Phoenix Pictures chairman Mike Medavoy, who produced The Black Swan.
Meantime, despite the disappointment of losing her promised new home, Brooke is clearly getting on with her life as a single mom to her twins, who turned two years old last week.
Kathy Hilton, threw Bob and Max a birthday party on Sunday at her posh mansion and although the boys' troubled father was missing from the guest list the twins were left wanting for nothing.
However, according to our source, don't expect to see any pictures from the party turning up in the press any time soon.
"The party had an animal theme," the source says. "There was even a petting zoo, and Bob and Max both loved the rabbits the most.
"There were reports that Brooke sold photos of the party to a weekly magazine, but that is absolutely, categorically false. She was offered six figures from multiple media outlets to publish pictures of the boys, but Brooke wouldn't even entertain the idea of selling the pictures, or having a film crew attend for one of the entertainment news shows.
Article continues below advertisement
"Brooke is very, very protective of the boys' privacy, and she won't exploit them in any way, period."
And when it comes to Charlie spending time again with his sons: "There is a time in the near future that Charlie will be seeing the boys, he knows when that is," the insider tells RadarOnline.com.
Calls seeking comment to Brooke Mueller, and her attorney, Lori Howe weren't immediately returned.
RELATED STORIES: