VIDEO: Charlie Sheen's Latest Web Show: Dead Man Ranting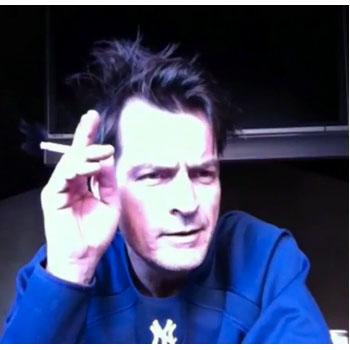 Just hours after being fired from Two and a Half Men, Charlie Sheen hit the airways again on Monday evening in another crazed rant that despite, being billed as live, had no mention of his sudden unemployment.
The third episode of the troubled actor's USTREAM web series, Sheen's Korner, appeared to be filmed earlier in the day before the news from CBS and Warner Brothers was announced as Charlie was more interested in talking about his mad-cap business plans than losing his $2 million-an-episode job.
Article continues below advertisement
Once again, the video was a telephone conversation with friend and Tweet master Bob Maron, that Charlie recorded.
A gaunt and strung-out looking Sheen smoked cigarettes, picked at his skin, tugged his hair and pulled his New York Yankees sweater over his head as he ranted and raved to the camera in his now signature-style.
"I don't give a f**k, I don't give a f**k. This phone doesn't even have a speaker because it was built by trolls. Keep that in mind, phones are built by trolls," he begins, then asks Maron, "Are you in Italy-ville still?"
Maron tells Sheen that he nailed a deal with Interns.com in regards to a job post for a social media intern, "They want to Tweet at 1 o'clock today. It's a record-breaker, it's at least six figures."
"As it should be," Sheen responds, "We're still getting j-j-jipped!"
Charlie gets increasing manic as the conversation progresses, saying that he hasn't had breakfast but: "I'm smoking a cigarette and drinking something that I won't reveal, unless they PAY me!"
Article continues below advertisement
"You can come home and like give me a big hug and avoid some eye contact. Will that be facial or b***hole? We'll start in the facial area," he tells his pal.
The 45-year-old actor throws out random phrases such as: "If you own the home that you own the trash can, you should never have to empty it ever again," as Maron tries to keep him focused.
WARNING: The video contains profanity
When the Tweet master says he was shocked that Charlie recorded their previous conversation without him knowing, Sheen responds: "I explained that people have to hear my gold as it rolls out, because it's so f***ing brilliant, not as it's disappearing, disappearing like so many magician's rabbits.
"We are in the middle of a movement here, an odyssey of epic, epic proportions."
"I had more than fun, I had 'me' with it," Charlie says of his previous web adventures while squinting and blowing smoke into the camera.
Article continues below advertisement
"People are doing exactly what they should be doing which is watching me and listening to you because we have all the answers, we have all the gold.
"Any time I roll anything out, my plan is the best one in the room and people are starting to realize that.
"Their plan is s**t and my plan is gold. Walk into my plan and you're going to win, win, win."
More crazy off-the-wall comments included: "Winner, winner chicken dinner, I don't think so - winner, winner, Sheen dinner!" and: "It's a Sheen dog and it's soul is inhabited by the soul of Betty and now it will murder people and eat trolls with it's razor fangs and drop their spleens off with their children at tiny houses. I'm foiled by phones and trolls!
"I'm going to drink this secret elixir down below the frame line," he says as he swigs from a bottle. "It's awesome, it's the best drink in the world but I won't show it because I haven't been paid for it."
Charlie's latest obsession is his book of poetry: "I'm going to roll an infomercial of my poetry book - the problem is, or the solution is, that is was 20 years ahead of it's time, and now it is it's time," he explains.
Article continues below advertisement
"Now everyone is 20 years in the past behind my book catching up. You had your poetry in your magic fingertips the whole time to flip the pages and read my perfect words but you didn't go there because you judged me, you condemned me, you discarded me. Well not anymore, winning! Waiting and winning for everyone to catch up.
"It's got the best title ever, Apocolypse Me - The Jaws of Life.
"I'm going to get this thing out on Amazon and Kindle to save the trees. I'm going to marry a tree because the other type of marriage didn't work so I'm going to marry a tree," Charlie explains, just before suddenly cutting off as the web cast goes dark.