VIDEO & PHOTOS: Lindsay Lohan Given More Time To Decide On Plea Deal; May Return To Court On March 25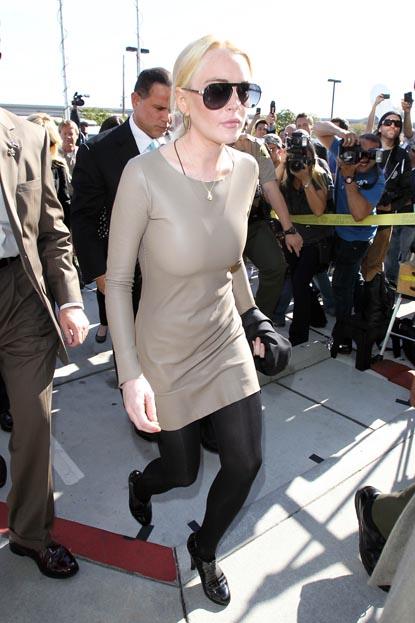 Lindsay Lohan caught a break -- sort of.
During a short court hearing on Thursday morning, Los Angeles Judge Keith Schwartz gave the troubled actress and her legal team more time to decide if they will accept a plea bargain to settle her case, RadarOnline.com is reporting.
The Mean Girls star, 24, was given the option to return before Judge Schwartz on Friday, March 25 if she does decide to accept a plea bargain. If she does accept a deal, at that time, she can plead either 'guilty' or 'no contest' to the felony grand theft charge. The judge has previously told Lindsay that if she does accept a plea deal, it will involve some jail time.
Article continues below advertisement
If Lindsay does not accept a plea deal and instead intends to fight the charge, Judge Schwartz said she will have to face fellow Judge Stephanie Sautner for a preliminary hearing on April 22 at 9 a.m. PT.
Judge Schwartz said that at that hearing, the judge will decide if there is enough evidence to order her to stand trial on the felony grand theft charge. Judge Schwartz also said the April 22 court date would include a hearing to determine if Lohan violated her probation related to a 2007 misdemeanor DUI case.
Lohan is accused of walking out of Kamofie & Co. on Abbot Kinney Boulevard on January 22 with a necklace valued at $2,500. She was charged February 9 and is free on $40,000 bail.
The jewelry store has since come under fire for releasing surveillance videotape of the actress inside the shop the day she allegedly stole the
necklace. The store owners, Geoff and Sofia Kaman, announced Wednesday they plan to eventually auction off the necklace and donate the proceeds to charity.
Article continues below advertisement
At one point during Thursday's hearing, Judge Schwartz implored all parties in the case to keep details of any deal confidential. The judge acknowledged both RadarOnline.com and TMZ for their aggressive reporting in this story, saying "thankfully this case doesn't involve military secrets."
Lohan -- who arrived to court a few minutes late wearing a taupe colored leather dress -- looked tense throughout the hearing.
The hearing was originally scheduled to begin at 8:30 a.m. PT, but was pushed back to 9 a.m. PT., although that fact was not known to the media Thursday morning. Lindsay arrived in court at 9:07 a.m. PT.
Lindsay's mother Dina and little sister Ali arrived with her. Her father, Michael, did not attend the hearing. He's currently shooting Dr. Drew's Celebrity Rehab.
Meanwhile, Lohan also faces possible criminal charges for an alleged attack on a former staffer at the Betty Ford Center in Rancho Mirage, CA. where she underwent a court-ordered drug rehabilitation program from late September until early January. The case remains under review by the Riverside County District Attorney's Office.