BEAUTY RADAR: Celeb Stylist Offers Tips To Transform Your Look!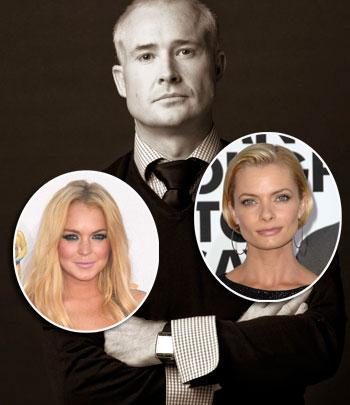 Whether your tresses are getting tangled, your highlights are making you feel low or you are just ready for a change, you can easily transform your look without spending a fortune. RadarOnline.com turned to celebrity stylist Sean James, who is the Workshop Director of the swanky Fred Segal Salon in Santa Monica, California, for some hair pick-me-up tips.
Article continues below advertisement
If you can't make it to Fred Segal Salon for an appointment with James, who has worked backstage of the runways in London, Paris and New York, and has styled celebs such as Paris Hilton, Kim Kardashian, Lindsay Lohan, Jamie Lee Curtis and Jaime Pressly, then read on!
REFRESH YOUR COLOR: I custom mix Shades EQ, which removes the dull look by adding sheen and nutrients to your hair.
BRIGHTEN UP YOUR HIGHLIGHTS: I like to use a system called balliage, which gives more natural looking highlights than foils.
BEAUTY RADAR: Celebs Love h.wood.beauty!
TRY SOMETHING NEW: Fashion changes every season and so should your hair! If you are stuck in a rut with something your mom said looks good -- ten years ago -- then you are in desperate need of a new look. Flip through magazines or hit the web, and be sure to look for images of someone who has the same hair type as you. Take these to your stylist, so they can help you achieve your desired look.
Article continues below advertisement
STRAIGHTEN UP: If you have curly or frizzy hair, a Brazilian straightening treatment can take you a long way and now there are several formaldehyde free Karatin treatments on the market, which work just as well as the others. My favorite is the Karatin Cure Gold & Honey treatment, which we offer at the salon. It is formaldehyde free, vegan and smells amazing!
CHOP CHOP: If you ever though about chopping your locks, now is the time! Cate Blanchett, Kate Winslett and Carey Mulligan have made super short hair sexy again, so if you want to look like an A-lister over a reality show starlet, then don't fear the shears.
STICK TO THE CLASSICS: Bobs, A-Line cuts and one-length shoulder 'do's never go out of style.
GET EDUCATED: Don't be afraid to ask for help! Many salons offer educational classes, so you can learn how to do your hair in fancy updos. At Fred Segal we have a great Updo Education, which has been so helpful for my clients.
CONDITIONING TREATMENTS: Many salons offer conditioning treatments at an additional cost to go along with your cut and color, and these really help to repair damage. I offer these complimentary with a 5 minute head massage to all my clients.
CONNECT YOUR BODY TO YOUR HEAD: Take a yoga class to feel beautiful from the inside out. We have just opened a great studio, Fred Segal Yoga Center, which is definitely a hit with our clients.
For more information on Sean James, or if you would like to book an appointment with him at Fred Segal Salon, click here.