AUDIO: Robert Pattinson Not Breaking Secret of Twilight: Breaking Dawn Location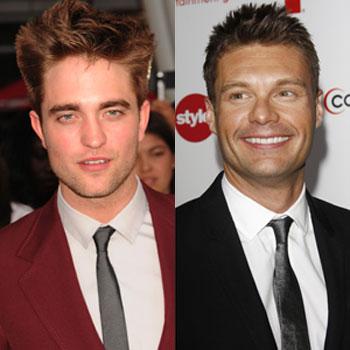 Where in the world is Rob Pattinson? Even the heartthrob doesn't seem to know!
While talking to Ryan Seacrest on his KIIS FM morning show on Thursday, the Twilight hunk actually called in from the highly-anticipated Breaking Dawn set in Canada -- but was mum's the word about his whereabouts.
AUDIO: Rob Pattinson Keeping Mum On Twilight Filming Location
"I'm calling from somewhere in the middle of nowhere in Canada in a big pile of mud and rain and cold. I have absolutely no idea where I am! But somewhere in Canada," he told Seacrest.
Article continues below advertisement
When asked about a rumored compound that's been set up around the set to keep prying eyes and unwanted visitors out during shooting for the blockbuster series' last installment, Pattinson could only laugh.
"I think they're being super secretive about all the stuff on this one," he said from a satellite phone.
"But I think I can get out of my room," he laughed.
While listeners could hear "rolling" and "action" being yelled on the bustling set, Pattinson took it all in stride as the multi-tasker made the call in between takes.
"I'm sliding down a mud hill trying to find a place where I'm not going to get run over.
"I've been thrown down a pit! It's not even my cell phone because we're so far away."
Ryan and sidekick Ellen K tried to get Pattinson to spill the beans, but after three Twilight films under his belt, he's now a pro at keeping it all a surprise
"It's all secret I'm going to get beaten if I say anything!" he joked.
Article continues below advertisement
In his upcoming 1930s-based film, Water For Elephants, alongside Reese Witherspoon, Team Edward fans may now be rooting for Team Jacob – well, sort of.
In the love story, Pattinson plays Jacob Jankowski who joins a traveling circus and falls for Witherspoon's Marlena Rosenbluth, the show's star performer. Pattinson said he even questioned the Twilight reference.
"It is quite funny. As soon as I read that it was actually one of my main concerns, my only concerns," he laughed.
VIDEO: Kristen Stewart And Rob Pattinson's Steamy On Set Kiss
"The name Jacob Jankowski takes away from it a little bit. It's very different from Twilight.
"It's a big beautiful old fashioned kind of love story set in the '30s in a circus . Reese and I are playing lovers. It's very sweet."
Since skyrocketing to fame in 2008 making his leading man debut in Twilight, Pattinson said his career is only now starting to come full circle.