PHOTOS: Robert Pattinson And Kristen Stewart's Steamy Night In Brazil - She's Wearing A Ring!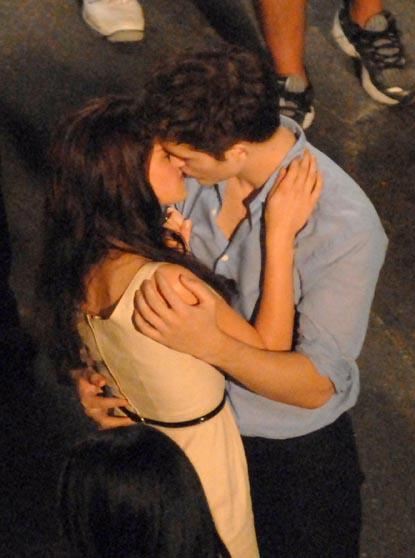 Robert Pattinson and Kristen Stewart took their on and offscreen romance to Brazil and RadarOnline.com has the latest photos from their steamy shoot for the latest Twilight installment Breaking Dawn.
The two actors' characters looked considerably grown up from their early high school versions from the first films.
Playing Bella, Stewart ditched the teen's usual jeans and sweater look for a chic and ladylike white dress with a demure black belt and bow. She is also wearing a shiny accessory -- an engagement ring!
Article continues below advertisement
Meanwhile, Pattinson's Edward also donned a more mature ensemble of a button-down and black slacks.
Like in the first film, Pattinson and Stewart got close on the dance floor- even seemingly sharing a kiss as extras shimmied around them!
Once the cameras stopped rolling, the two burst into smiles and laughter, holding hands as they walked away together once they finished the scene. Pattinson also gave Kristen a intimate kiss on the forehead between shots and made sure to wrap his arm around her as well as they made their way through the crowd.