Apple CEO Steve Jobs Makes First Public Appearance Since Cancer Treatment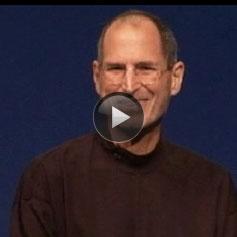 On Wednesday, Apple CEO Steve Jobs made his first public appearance since RadarOnline.com's world exclusive video on February 22, showing the genius inventor of the iPod, iPhone and iPad looking gaunt as he left the Stanford Cancer Center in Palo Alto, California, where he's undergoing treatment for cancer.
Watch the video on RadarOnline.com
Jobs, who's on a medical leave, unveiled the iPad2 at a gathering in San Francisco, and Good Morning America was on hand to see the genius at work.
Article continues below advertisement
"We've been working on this product for a while and I just didn't want to miss today," Jobs, 56, said to a thunderous ovation from a crowd jam-packed with bloggers and Apple fans. "I'd also like to thank everyone's families, because they support us and let us do what we do."
Jobs appearance, and the upcoming iPad, caused Apple to rise nearly $3 on the stock market, according to ABC.