VIDEO: TV Reporter Serene Branson Breaks Silence -- 'I Was Having Trouble Remembering The Word For Grammy'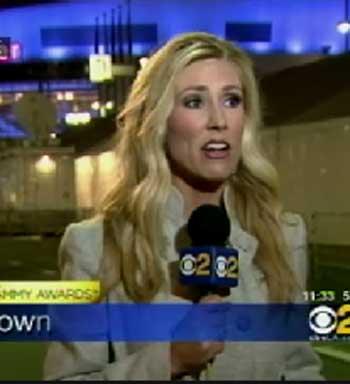 Los Angeles TV reporter Serene Branson recalled the terrifying details of the now-viral incident in which she lapsed into gibberish while delivering a report from the Grammys, which many thought was a stroke, but turned out to be the result of something called a "complex migraine " -- or severe one.
Branson, 31, talked about the entire series of events on her home station, KCBS-TV, on Thursday night, noting that the stroke-like symptoms she experienced as a result of the migraine -- dizziness, nausea and garbled speech -- run in the family, as her mother has suffered from a similar condition, as well.
Article continues below advertisement
"At around 10 o'clock that night, I was sitting in the live truck with my field producer and the photographer and I was starting to look at some of my notes.
"I started to think, 'The words on the page are blurry,' and I could notice that my thoughts were not forming the way they normally do," Branson said. "As soon as I opened my mouth, I knew something was wrong -- I was having trouble remembering the word for Grammy -- I knew what I wanted to say, but I didn't have the words to say it."
She said she was aware her words were not making sense, and that her TV crew immediately came to her aid following the report.
Branson said when the paramedics arrived and checked vital signs, her speech came back to her. She said the paramedics kept asking if she wanted to go to the hospital, and she responded, 'I want to go home.'
She said a friend drove her home, where she was "so out of it that she went right to sleep."