VIDEO: Speculation Grows Over TV Reporter's Bizarre Gibberish -- Did She Suffer Stroke?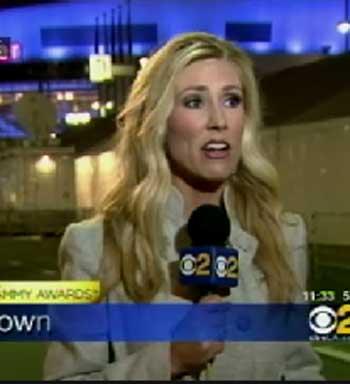 Experts are weighing in on the disturbing video of Los Angeles TV reporter Serene Branson lapsing into gibberish while she delivered a live report on KCBS' late news following the Grammy Awards on Sunday night.
As he watched the clip -- which quickly went viral -- Dr. Jesse Eisenberger, a neurology professor with the Mt. Sinai Medical Center, told Good Morning America on Tuesday that Branson is "definitely having difficulty expressing her words, which is a neurological condition called Aphasia," which he described as "a symptom that can be related to a stroke, or it could be other things, such as a partial seizure."
Article continues below advertisement
Sarah Carlson, a Wisconsin-based news anchor who had an epileptic seizure on the air, said she could relate to Branson.
Carlson said, "I thought it was eerily similar -- the look in her eyes ... and the way she spoke."
KCBS-TV reported that Branson was examined by paramedics after the incident, and her vital signs were normal ; a colleague then drove her home. Branson had a doctor's appointment Monday to follow up, the network said.
"Serene thanks everyone for their concern and good wishes and hopes to be back on the air very soon," the network said in a statement on its' website.
Watch the video on RadarOnline.com
RELATED STORIES: