VIDEO: Sisters Of Monica Beresford-Redman 'Had Feeling' Murder Was Premeditated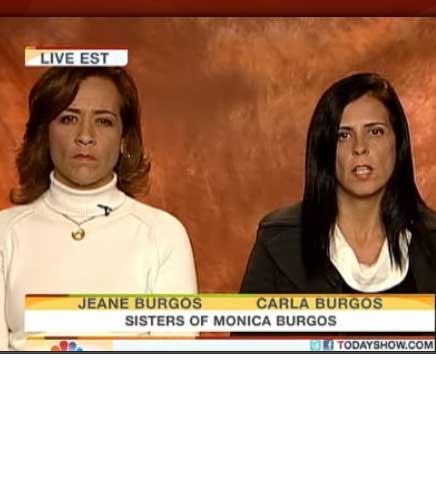 The late Monica Beresford-Redman's sisters, Carla and Jeane Burgos, told The Today Show Wednesday that they're satisfied with the job Mexican authorities are doing in trying to extradite their former brother-in-law Bruce Beresford-Redman in connection with their sister's death in Cancun last year.
Watch the video on RadarOnline.com
Mexican authorities alleged in new extradition papers filed in Los Angeles, that Bruce Beresford-Redman had premeditated wife's killing, hitting in her head with a blunt object before fatally choking her.
Article continues below advertisement
"For me it's always hard, it's been hard for the past 10 months, we really couldn't have any relief so far, all this exposure, all these horrible and terrible facts," Jeanne said. "We just have to go one day at a time. We have a lot on our plates right now."
Carla said she's satisfied at the efforts put forth to extradite Bruce Beresford-Redman by Mexican authorities, so far.
"They've done a really good job on the investigation," she said.
Article continues below advertisement
The Emmy-nominated producer has been in custody since November 16, 2010 when he was arrested on a fugitive warrant in connection with the homicide charge.
As RadarOnline.com previously reported, Bruce, Monica and their children, 5-year-old Camila and 3-year-old Alec, had been staying at the Moon Palace resort in Cancun, when Monica, 41, was reported missing after not returning from a shopping trip. Her body was found in a sewer at the resort April 8, 2010, and authorities said there were signs of asphyxiation and major damage to her right temple.