VIDEO: Piers Morgan (Playfully) Confronts Larry King Over 'I Haven't Seen You Dangerous' Remark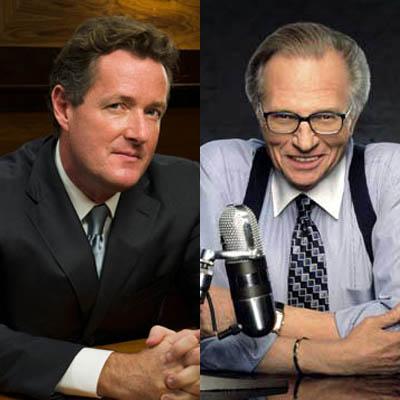 That didn't take long.
Less than three months after Larry King left his talk show at CNN, he returned to the scene of the crime -- or rather, time slot -- to spar with his "successor" Piers Morgan.
At issue -- a comment King made saying that the cocky Brit "oversold" his show by saying he would be "dangerous".
"Were you being facetious when you said you were dangerous?" King asked Morgan. "Was that at attempt at British humor? I haven't seen dangerous yet."
Article continues below advertisement
Morgan, clad in suspenders in a nod to the 25-year CNN talk show vet, told King, "We couldn't come in and undersell then ... I'm following a legend.
"I can't come in after Sinatra in Vegas and say, 'By the way, this is not going to be very good. I suppose I've always oversold myself. I quite like doing that. It's quite funny."
Watch the video on RadarOnline.com
Morgan later told King he was his "hero" and said he's honored to follow in King's footsteps.