VIDEO: Lady Gaga Expresses Herself -- Says Madonna Sent Her Blessing For New Single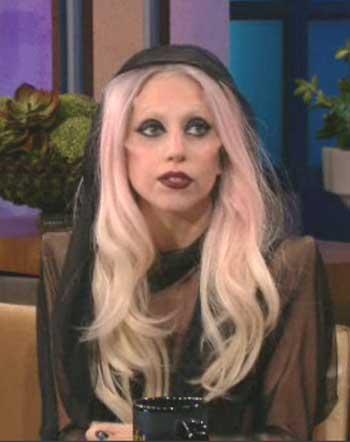 Lady Gaga appeared on The Tonight Show Monday, where she filled Jay Leno in on her egg-centric transportation to the Grammy Awards, as well as addressing the controversy that her new single Born This Way is a rip-off of Madonna's Express Yourself.
EXCLUSIVE COURT DOCUMENTS: Lady Gaga's Producer Sues Ex-Employee
The 24-year-old New Yorker joked she spent three days in the giant egg -- she called it a "vessel" -- that she arrived to Sunday's Grammys Awards in.
Article continues below advertisement
"It was temperature controlled," said the Bad Romance singer, who on Monday wore one of her trademark outlandish outfits, a ghoulish get-up complete with a sequined, black mask and black-lace veil.
"It was temperature controlled," the Bad Romance singer joked.
Asked about her upcoming album, also called Born This Way, Gaga said, "I love the album so much, and I hope all the 'Monsters' do too (referring to her fans)."
The Poker Face singer said that she wrote the songs for the album in a short time, but it took more than a year-and-a-half to coordinate the musical arrangements to her liking.
She said her new single, Born This Way, is about realizing one's identity as part of their destiny, and reminding people that "its never to late to harness their confidence and find their inner superstar."
And as for the controversy that the song sounds eerily like Madonna's hit 1989 single, Express Yourself?
Article continues below advertisement
"There is really no one that is a more adoring and loving Madonna fan than me," Gaga said. "I am the hugest fan personally and professionally. The good news is that I got an e-mail from her people and her, sending me their love and complete support on behalf of the single.
"And if the queen says it shall be, then it shall be."
Watch the video on RadarOnline.com
The new album hits stores May 23.
RELATED STORIES: