EXCLUSIVE COURT DOCUMENTS: Lady Gaga's Producer Sues Ex-Employee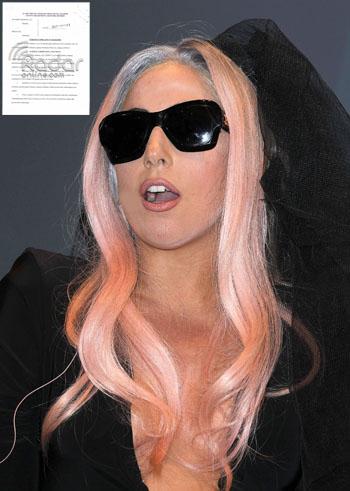 DJ White Shadow, Lady Gaga's mega-successful music producer and collaborator on her new hit single, Born This Way, is suing an ex-employee, Brian Lee, for violating terms of a confidentiality agreement.
EXCLUSIVE COURT DOCUMENTS: Lady Gaga's Producer Sues Ex-Employee
In court documents exclusively obtained by RadarOnline.com, Shadow, real name, Paul Blair makes some shocking allegations against Lee, including taking inappropriate photos, engaging in illicit drug use and making lewd and offensive remarks.
Article continues below advertisement
The lawsuit states that the trouble began when Lee embarked on tour with Shadow and Lady Gaga last summer, claiming: "almost immediately upon beginning to tour with Lady Gaga, Lee engaged in regular and frequent breaches of the Operating Agreement by failing to perform services in a conscientious, professional, and business-like manner.
"Specifically, he (i) was repeatedly tardy for commitments, (ii) refused to follow directions or complete work, (iii) took inappropriate photographs of himself and other individuals, (iv) engaged in illegal drug use, and (v) made lewd and offensive remarks during recording sessions. As a result, after approximately one week on tour, he was sent home."
Lee was eventually terminated from the company in October 2010, but according to the lawsuit, Lee tried to contact Lady Gaga after he was no longer working for DJ White Shadow.
The lawsuit states that among the things Lee has done: "attempting to contact Lady Gaga at an establishment owned by Luc Carl, who is in a romantic relationship with Lady Gaga, where he made false remarks about DJWS and Blais, and where he harassed Mr. Carl and members of his staff...gaining entrance to a Lady Gaga concert in Philadelphia, Pennsylvania by using an old security badge and refusing to leave the premises until he was removed by security...making numerous harassing telephone calls to members of Lady Gaga's security team...publicizing his involvement with Lady Gag through social media, including Twitter without authorization, which subjects DJWS to legal liability."
The lawsuit is seeking to muzzle Lee about uttering a word about Lady Gaga and prevent him from claiming authorship rights to any of Gaga's material until the lawsuit is settled.
RELATED STORIES: