VIDEO: Johnny Depp Is A Belieber!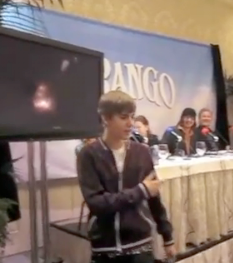 Johnny Depp was surprised and delighted when Justin Bieber crashed his Rango press conference, and you can listen to what happened here on RadarOnline.com.
As RadarOnline previously reported, Depp took his children to see the singer perform in Miami last December. Now the Never Say Never star was there to return the favor.
Rango star Depp had just told reporters that his children were more interested in Justin Bieber than they were in their dad as the voice of a lizard.
Article continues below advertisement
Moments after Depp confirmed "I'm a Belieber" to radio personality Hyla who was in the press conference audience, the pint-sized pop star suddenly showed up.
"Man I heard you were in the building," Bieber said as his made his way to the podium to give Depp a hug and a handshake.
"I'm a big fan of you so I wanted to support you," he added.
"Who's not a Belieber after that?" asked Depp as Justin ran off.. "Aren't we all Beliebers? How am I going to explain this to my daughter!