VIDEO: Britney Spears Sexy New Music Video 'Hold It Against Me' Teaser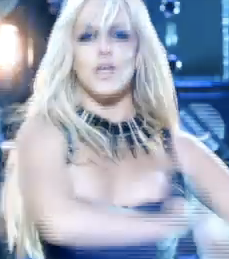 Britney Spears is back with a vengeance and a teaser of her new music video for Hold It Against Me shows why she is still the Princess of Pop.
The hot new video teaser showcases what Britney does best - the super tight dance moves that made her famous, while dressed in an uber sexy outfit, and the full 30 second clip was released by Celebuzz.com.
The video will premiere Thursday, February 17 on MTV at 9:56 ET and is the first video from her upcoming album Femme Fatale, which drops on March 29.
Article continues below advertisement
"I think it's some of the best work I have ever done," Britney recently Tweeted about the album.
"I would describe it as moody, edgy pop with A LOT of energy."
Britney, who turns 30 in December, Tweeted that she's definitely planning another world tour.
"I'm thinking about tour right now and I would to visit a lot of places I didn't get to go to on my last tour....Especially BRAZIL!!!"
RELATED STORIES: