Piers Morgan Loses Michael Vick Bet With Oprah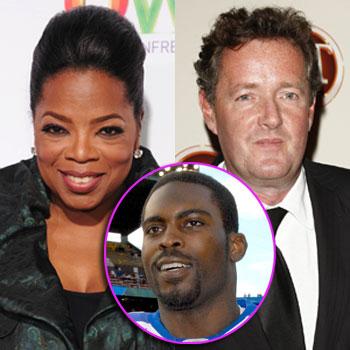 In his premiere interview Piers Morgan wagered a high stakes bet with Oprah Winfrey, and maybe he's a little new to the game, but he probably should have known that what Oprah wants Oprah gets.
Interviewing the television mogul on January 17, Piers bet Oprah that he would be the first person to get an interview with Michael Vick, but with Oprah's announcement that her interview with the scandalous football player set to air on February 24th, Piers lost the bet, and the wager they made.
Article continues below advertisement
The original bet Piers offered was for 100 British pounds, but billionaire Oprah upped the ante to 200 British pounds (about $317) and the two shook hands.
"The way I live my life is if it's supposed to happen, it will happen," Oprah sagely said. "And if Michael Vick chooses to sit with you as his first interview and not sit with me then that's the way it's supposed to be."
However, she had words of warning for the scorned NFL player. "Don't call me later, Mike."
Vick, who spent time in jail for dog fighting clearly headed her warning, and perhaps tipping off the news that she had secured Vick for the interview, on Friday Oprah Tweeted to Piers "I'm pulling out of the bet. I don't know why I let you talk me into it. I don't gamble. Still love you."
Piers responded "Congrats to @Oprah on beating me to i/v with @MikeVick -- but she can only do it if she sends me £200 for forfeiting our bet."