PHOTOS: Who's That Bikini Babe? International Bombshells You Have To Meet!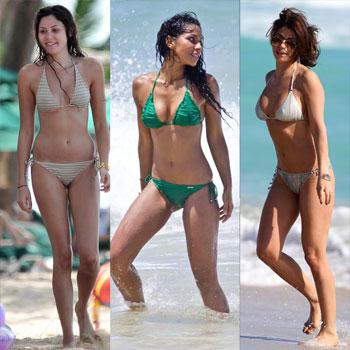 From Brit babes to Peruvian beauties, these sexy stars make a splash when they strip down into their skimpy swimsuits, and the shame is, you may not even know who they are! RadarOnline.com has sourced out international bikini babes, who have yet to claim their fame in the United States, and stripped them down into their barely there bikinis. Click the next sentence to get acquainted with the international bikini bombshells.
Article continues below advertisement
Talk about an awesome Aussie! Ashleigh Francis was named Miss World Australia in 2010, and by the looks of her bikini body, there is no question why. The exotic beauty, who is a perfect blend of Jamaican and Scottish descent, fills out her bikini top to perfection.
Check out Ashleigh Francis' banging bikini bod by clicking here.
Olcay Gulsen may be a Dutch fashion designer, but with her looks, she could easily be a fashion model. The owner of the international brand SuperTrash bares a striking resemblance to George Clooney's lady-love Elisabetta Canalis, especially with her flawless bikini body.
Article continues below advertisement
See Olcay Gulsen's gorgeous body by clicking here.
While several footballer's wives made our hot list, only one football heiress landed a slot. Katia Ancelotti is the hot-bodied daughter of the owner of the Chelsea Football Team, who always brings heat to the beach with her luscious looks.
Get a peek at Katie Ancelotti's sexy swimsuit body by clicking here.
And you may not know Laurie Cholewa or Lucie Jones, but they certainly know some of Hollywood's hunkiest men. While French television host Laurie has been linked to hunky Gerard Butler, former X-Factor babe Lucie spent some off-stage time with Joe Jonas, when the two starred in the West End together.