PHOTOS: Shia LaBeouf Out With New Haircut & New Girlfriend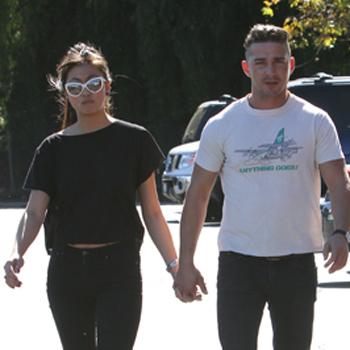 Just a week after he got into a wild bar brawl, Shia LaBeouf took his new girlfriend and his new haircut out for lunch in L.A. He is barely recognizable in these pictures obtained by RadarOnline.com.
Shia and his lady went to lunch at Sweet Butter Kitchen in L.A.'s Sherman Oaks district.
It's just a short walk from there to Mad Bull's Tavern where on Feb. 5, Shia took a punch to the face during a fight he instigated.
Article continues below advertisement
EXCLUSIVE: Shia LeBeouf's Bar Fight Started With Gay Slur
As RadarOnline.com exclusively reported, the Transformers star was visibly intoxicated when the incident occurred at 1 am. After he refused fan Mark Mastro a photo op, words were engaged and LaBeouf charged Mastro. He pushed Mastro's girlfriend out of the way and clipped one of his buddies in the forehead before Mastro stopped him with a punch to the face.
Mad Bull's bouncers, who have a track record with LaBeouf, put him in a headlock and delivered him to the cops who quickly arrived on the scene. They talked LaBeouf down but didn't allow him to get into his truck to drive home.
LaBeouf and his lunch date have been seeing each other at least since early December but he's not yet shared her name.
"Shia was very quiet and very polite when he was here," an eyewitness tells RadarOnline.com exclusively. "He and his friend sat outside and didn't do anything to draw attention to themselves."